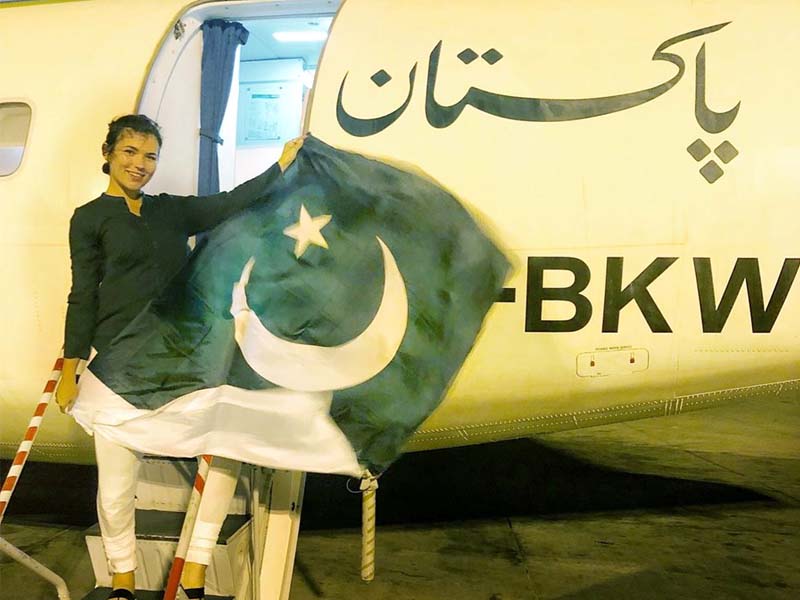 ---
KARACHI: After a video of a Polish national dancing on a Pakistan International Airlines (PIA) plane to celebrate the country's Independence Day went viral, the National Accountability Bureau (NAB) has come down hard on the national flag carrier.

Draped in the Pakistani flag, Eva zu Beck can be seen doing her own rendition of the popular Kiki challenge based on a song by Canadian singer Drake.

According to sources, NAB chairman Javed Iqbal has taken notice of the incident.

Iqbal has called for action to be taken against CEO of PIA over abuse of his authority, the sources added.

Video of PIA pilot taking Chinese passenger into cockpit goes viral

The NAB chairman questioned how a foreign woman managed to reach the runway and the aircraft, and 'desecrate' the Pakistani flag, and called for action against those responsible.


Eva zu Beck from Poland/England is a Global Citizen travelling around the world, but now her heart is set on Pakistan! She has been exploring Pakistan flying #PIA. She will be celebrating Independence Day in a style never before attempted in the world! Stay tuned for updates. pic.twitter.com/jrwezOJBzw

— PIA (@Official_PIA) August 12, 2018


The national flag carrier, however, disowned the video, saying it will be inquired as to how the foreigner was allowed to record the video.

"We had nothing to do with the video, she posted it up on our Twitter account herself," PIA spokesperson Mashood Tajwar told The Express Tribune.




The national carrier has often been in the media spotlight for allowing special privileges to foreigners. Last year, a PIA pilot reportedly left the flight deck to invite a young Chinese woman to join him in the cockpit.

The video of that incident went viral. The Chinese woman allegedly stayed inside the cockpit for over two hours, coming out only after the plane landed.


Eva speaks out

After the incident caught the eye of social media users, Eva posted a video in which she said that,"I've received lots of positive messages from my followers over the video, however, I would still like to apologise if my actions have hurt anyone".


#EvazuBeck's explaination on what happened with the #PIA #KikiChallenge video. #PakistanZindabad #IndependanceDay #IndependenceDay2018 pic.twitter.com/ar40KBYhDS

— Syed Zeeshan (@Syed_M_Zeeshan) August 13, 2018


She added that she loves Pakistan and will continue to promote it throughout the world.