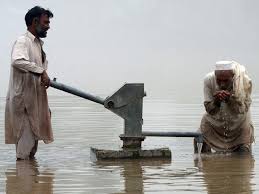 ---
QUETTA: Caretaker Balochistan Minister for Public Health Engineering Naveed Kalmati has said earnest efforts are being utilised to end water crisis in Gwadar, Quetta and Kachi.
"Tanker mafia is the biggest hurdle in supplying clean water to the people of Gwadar," said Kalmati in an interview with a local news organisation on Thursday.

Severe water shortage hits most parts of Quetta

He said, "Frontier Works Organization has been providing daily 200,000 gallons of water to Gwadar, while the provincial government has decided to purchase 15 million gallons from the plant being installed by the Chinese government."
He said 80 cents per gallon would be the cost.
On tankers' role in the recent water crisis in Gwadar, the interim minister said, "The total cost of water supply in Gawdar through tanker mafia has touched Rs3 billion annually.

Out of order tube wells causing water shortage in Quetta

"The provincial government has constituted a committee headed by the Balochistan chief secretary to resolve the water crisis in Gwadar and has restored Rs207 million Omani grant."
On water shortage in Quetta, the PHE minister said, "Construction of Mangi Dam is the only solution to Quetta's water shortage. On 10% of the dam's construction has been completed, while the cabinet has approved to complete 40% work this year."

Most parts of Quetta without water for five months

On political influence in Water and Sanitation Authority (Wasa), Kalmati said, "Political intervention and unnecessary appointments in the department have worsened the plight of Wasa due to which the department is facing financial crisis."
He said 85% water shortage in the city has been covered. "We have decided to install hard rock tube wells in the mountains of Quetta and the water from nine tube wells in Dasht is being shifted to Quetta through pipelines," he added.
COMMENTS
Comments are moderated and generally will be posted if they are on-topic and not abusive.
For more information, please see our Comments FAQ