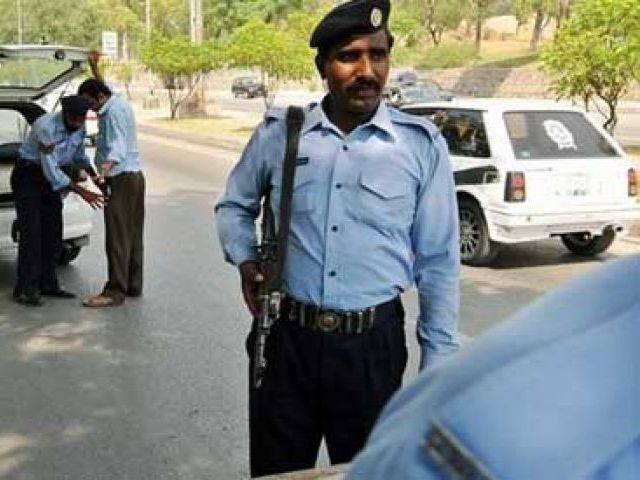 ---
ISLAMABAD: Islamabad Police have arrested 4,869 suspects including 886 absconders and recovered valuables worth more than Rs354.8 million from them so far during the year, a police spokesman said on Wednesday.

Besides arrests and recoveries, police completed investigation on 4,689 cases and submitted their challans in relevant court.

The spokesman said that police investigators cracked 14 blind murder cases and arrested 27 alleged killers during the year so far.

He said that owing to renewed efforts during the current year, police arrested 380 people involved in 214 robbery cases and recovered snatched valuables worth Rs35 million from them including gold ornaments and cash.

He said that Islamabad police solved 278 cases of burglary and arrested 438 alleged burglars and valuables worth more than Rs86.6 million were recovered from them.

In all, 114 vehicles worth Rs98.9 million were recovered from 86 car lifters involved in 124 cases while 89 bike lifters involved in 75 cases were held besides recovery of motorbikes worth Rs4.46 million from them.

Police also arrested 95 persons for their alleged involvement in 108 cases of tempering vehicles and recovered 102 vehicles worth Rs129.8 million from them.

SHOs of all precincts shuffled in capital

During special crackdown against absconders, police arrested 413 proclaimed offenders and 473 court absconders. The nabbed proclaimed offenders were wanted to police in crime cases of murder, attempt to murder, robbery and snatching valuables.

Police apprehended 626 persons for possessing illegal weapons and recovered 24 automatic assault rifles, 613 pistols and 5,002 bullets from them.

A total of 845 people were held for having narcotics and liquor while 746 cases were registered against them besides recovery of 200.4 kilogrammes of hashish, 30.660 kilogrammes of heroin and 14,924 bottles of liquor.

Islamabad police raid dance party, arrest over 40 including 22 girls

Islamabad police launched crackdown against those involved in immoral activities and arrested 199 men and 237 women after registering 78 cases against them. To ensure protection to the lives and property of the citizens, a total of 132 combing and search operations were conducted along with personnel of law enforcement agencies and 490 suspects were detained for questioning.

Besides a total of 391 other criminals were also held for their involvement in crime cases of various nature

During the same period, the legal action was taken against 6,193 professional beggars.

SSP (Operations) Najeebur Rehman Bugvi said the police officers and jawans remained firm against the activities of criminal elements. He urged the police officials to adopt decent and polite attitude with the people. He also directed for effective crackdown against drug peddlers so that society can get rid of drug menace. He asked police officials for effective patrolling to check street crime and robbery or snatching incidents.

The SSP (Operations) appreciated the overall performance and directed for effective policing measures in the city.

ICCI presidents lauds efforts of ICT police

Islamabad Chamber of Commerce and Industry (ICCI), on Wednesday lauded the efforts of Islamabad Capital Territory (ICT) police and said due to their good efforts, the ratio of crimes was low in the federal capital as compared to other major cities of the country.

ICCI President Sheikh Amir Waheed, while talking to Police Senior Superintendent Captain Retd Muhammad Aamir Khan Niazi, said ICT police had installed over 1,800 cameras in Islamabad under the safe city project. He stated that the installation of these cameras had greatly helped in improving security arrangements and law and order situation in the city. However, he said currently over 500 of these cameras were dysfunctional. He stressed that ICT police should immediately set right all faulty cameras that would help in further improving security in the city.

Speaking at the occasion, Niazi said the business community was playing an important role in the economic development of the country and police would take all possible measures for providing them a safe and secure environment for growth of business activities.

He said ICT police would develop close coordination with ICCI to further improve security arrangements in markets and business centers. Both sides discussed many areas of mutual collaboration for achieving common goals. ICCI Senior Vice President Muhammad Naveed Malik and ICCI Vice President Nisar Mirza assured that the chamber would extend full cooperation to police in its efforts aimed at improving security arrangements in markets and commercial centers in Islamabad.

They were of the view that if police have any complaint against any trader, it should first take ICCI on board for resolving issues with joint efforts.  

Published in The Express Tribune, August 2nd, 2018.