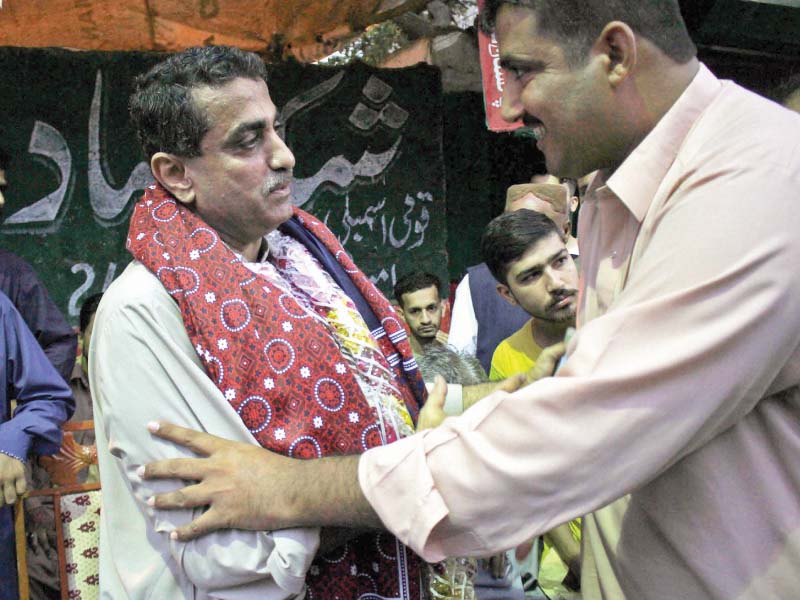 ---
KARACHI: Abdul Shakur Shad - the Pakistan Tehreek-e-Insaf (PTI) candidate who defeated Bilawal Bhutto Zardari in Lyari - was once a true jiyala of the Pakistan Peoples Party (PPP), so much so that he could not attend the last rites of his father as he had fled to Bahrain to escape the wrath of Gen Ziaul Haq's government.

He was active in the PPP's struggle against the military regime in the 1980s and was even imprisoned. However, with the passage of the time, Shad got estranged with the party. In the 2008 elections, he contested from Lyari as an independent candidate. After a decade, he has made his way to the National Assembly after securing 52,750 votes in NA-246, giving one of the major upsets of the elections by defeating the PPP chairperson.

Lyari rejects Bilawal

Celebrating victory

Sitting outside his house near Gabol Park in Lyari, Shad shared with The Express Tribune his past struggles, reasons for estrangement with the PPP and the party's downfall in Lyari.

"They [PPP] never realised our [political workers] importance," said Shad, surrounded by scores of his supporters. One of his supporters, Muhammad Shahid, pointed at a house just in front of Shad's. "This is the house of Karim Gabol, uncle of Nabil Gabol [of PPP], where there was no political activity. It is due to this they lost."

Since his victory, the PTI winner had been receiving felicitations, ajraks and other presents from Lyari residents. The slogan, 'Lyari, Lyari walon ka [Lyari belongs to the people of Lyari', inscribed on walls in various locations of Lyari is a taunt to the PPP for having taken Lyari for granted. Shad and his supporters used similar slogans when he contested independently against PPP's Nabil Gabol in the 2008 elections.

Shad's grandfather was a Kurd Baloch who settled in Lyari. His father and he were born in Karachi. The NA-246 winner holds a Masters degree in international relations from the University of Karachi. He fondly recalls his varsity days where he was one-year junior to Husain Haqqani.

He runs his own business, titled Sonmiani Fish Meal.




A Bhutto fan

Shad started his political career during Gen Zia's martial law in 1977 while he was studying at KU.

An ardent supporter of Bhutto, he held a rally in favour of his leader, prompting the military regime to raid his house. Recalling details of the raid, he explained it was October 1, 1978 when law enforcement agencies (LEAs) carried out a raid at his house. He had gone into hiding so the LEAs took away his father instead.

"They shifted him [Shad's father] to the Baghdadi police station where he suffered his first heart attack," the NA-246 winner said in a low voice. There was no mobile communication back then and for 17 days, he had no idea of his father's health, he added.

According to Shad, Bhutto's execution was the worst thing that could happen to Pakistan. However, he lamented that the PPP supporters' reaction to Bhutto's hanging was disappointing.

"No jiyala of the party came out when Bhutto was hanged. It were few 'sar phire' [mad] like us who came out on the streets," he recalled. When asked what sort of agitation he resorted to, he smiled in reply, saying "these things are not to be told".

Shad continued political activism after Bhutto's execution. In 1981, he became the general secretary of the Peoples Students Federation (PSF) in KU. Like many other PPP supporters, he became undesirable for the military regime and had to flee to Bahrain. It was during this period of his self-exile when his father passed away.

"I couldn't see my father the last time. I couldn't shoulder his coffin - all because of the party," he whispered.

Disenfranchised Lyari voters snub PPP

Supporting Benazir

"She was a very kind lady," Shad remarked about Benazir while shutting his eyes. He was full of praise for the daughter of his idol.

Shad recalled his various encounters with Benazir whom he referred to as Bibi. "In 1981, I was given the additional charge of the PPP Karachi general secretary by Bibi as the then-general secretary Akbar Qaimkhani had been arrested," he said.

During one of her tenures, Benazir also appointed him as an inspector in the Federal Investigation Agency where he worked till 2002.

Shad was also assigned the responsibility of arranging the first public procession of the PPP in Lyari after Qaim Ali Shah was elected as the Sindh chief minister in 1988. "He (Shah) was welcomed all the way from Cheel Chowk to Kumar Wara Chowk," Shad recalled.

However, Shad was not a blind supporter of the party. He raised his voice against the party whenever he felt the party's stance was wrong. He said he had decided to contest the 1993 elections independently as the party had not served the people of Lyari, however, he did not do so as Benazir personally wrote a letter to him requesting him to stay with the party.

In 2008, after Benazir was assassinated, Shad contested elections independently against Nabil Gabol. He explained that core PPP workers of Lyari had been disgruntled with the party and a two-time MNA of the party, Waja Ahmed Karim Dad, was leading them. "Even back then our slogan was Lyari for Lyarian," he said, adding that "our revolt was within the party as we couldn't approach Bibi since she was in exile and was misguided by individuals who surrounded her".

Final adieu

For contesting the 2008 elections in independent capacity, Shad's membership was temporarily cancelled. When Faisal Raza Abidi became the PPP Karachi president in 2012, he wanted Shad to become the District South president, Shad said, adding that it could not happen due to opposition within party ranks. "Still I was made vice-president of South and worked for five months," he explained.

When Abdul Qadir Patel was made PPP Karachi President, Shad was again dismissed from the position. Without naming particular individuals, the NA-246 winner alleged that some elements even planned to have him murdered at that time.

Shad claimed that he received maximum votes from District South in the intra-party elections but his name was even not shortlisted for a party post in Karachi. "They underestimated our importance, it wasn't their fault, they were misguided," he said.

Shad formally joined the PTI on May 12 this year during a political procession of the party at Sunday Bazaar Ground near Alladin Park. He claimed that the Pak Sarzameen Party and Pakistan Muslim League-Nawaz had also invited him to join their ranks.

Avoiding allegations

The former PPP jiyala, however, did not hurl any accusation against Bilawal and PPP Co-Chairperson Asif Ali Zardari. "I don't want to speak anything against a party I have served so long. I still have love for Bhutto and Bibi in my heart which no one can take away," he said in a firm tone.

However, he resorted to somewhat condescending words when asked to compare Benazir with Bilawal. "Bibi had a political struggle to her credit. She was a symbol of valour and courage," he said, adding that Bilawal is just a kid.

When asked even Benazir was very young when she started to lead the party, Shad replied, "but she had Bhutto's blood."

Shad was also reluctant to speak about gang war in Lyari. "This is not even worthy of discussion," he remarked, adding that he wished youth of Lyari were provided pens instead of Kalashnikovs. When asked who handed them the guns, he said, "those were political individuals, not the party".

"Asif Ali Zardari, despite all his wrongs, was never directly linked with the gang war," he said, adding that individuals like Sharjeel Memon and Mukesh Kumar Chawla used to visit Lyari warlords. "There are even videos of Faryal Talpur with them," he remarked.

Shad also refused to compare Bhutto with Khan. "Bhutto was a very big leader and political diplomat. I will not compare the two," he said, adding that "Khan has his own style, political struggle and sacrifices".

Although he avoided to directly blame the PPP for gang war that devastated Lyari, he maintained that people of Lyari had enough of the PPP. "Bilawal's third or fourth position was the writing on the wall. People took their revenge," he asserted.

Published in The Express Tribune, August 2nd, 2018.