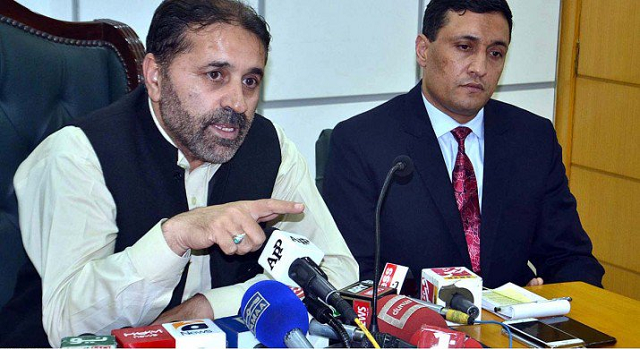 ---
QUETTA: Caretaker Minister for Health Faiz Ahmed Kakar has urged nursing mothers to breastfeed their children in order to seize the rising infant mortality rate occurring due to nutritional deficiency in the province.

"Of 1,000 children born every year in Balochistan, 111 children die before reaching the age of five," said the health minister while addressing a seminar in connection with the 'Global Breastfeeding Week' on Tuesday. The seminar was organised by the health department, government of Balochistan.

Breast Milk Substitutes: Report decries unethical promotion of formula milk

Provincial Nutrition Cell head Ali Nasir Bugti, Dr Abid Panezai, Professor Mushtaq Jaffar, Lady Medical Officer Dr Rubeena Mir and other health officials attended the seminar.

Kakar said, "Unless awareness is spread that mothers' milk is far better than the packaged one, sense of deprivation among us will remain. It is an important role for the media as well as every sect. The aim of conducting this day every year is to tell people that mothers should breastfeed their children."

Addressing the seminar, the attendees said, "The infant mortality rate in Balochistan is the highest in Pakistan. Of the 1,000 children born every year in the province, 63 die within the first month, while 97 before their first birthday."

Breastfeeding helpful in curtailing neonatal deaths

According to the National Nutrition Survey 2011, 16.1 per cent children are weak and 52 per cent short.

They said, "It is important for mothers to start feeding their milk to children within one hour of birth. The mothers, who breastfeed their children, stay in good health. The women's of the cities, who don't feed their children on one pretext or the other, need attention. They go to the doctors and insist upon feeding their children packaged milk due to which the child falls sick and starts getting weak."

They said, "Even if women are ill (except for cancer) they can breastfeed their children. If children are fed milk in the correct position, milk deficiency will be hardly one per cent."

They urged the media to play its due role in this regard.
"A law has been passed to ensure mothers breastfeed their children," they added.
COMMENTS
Comments are moderated and generally will be posted if they are on-topic and not abusive.
For more information, please see our Comments FAQ