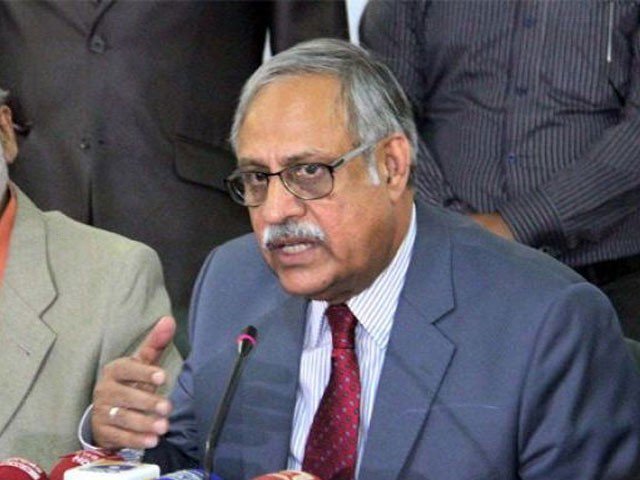 ---
ISLAMABAD: Rebutting the claim that the July 25 polls were highly rigged, the Election Commission of Pakistan (ECP) on Tuesday asked the political parties to respect the people's mandate, adding that if anyone has complaints it could take the legal course.

"Disrespecting mandate of the people of Pakistan without any valid reasons, only for personal interest is against the basic spirit of democracy," said a hard hitting statement read out by the ECP Secretary Babar Yaqoob at a press conference.

ECP prepares for presidential election

The statement came in response to demand by some leading politicians that the Chief Election Commissioner (CEC) Sardar Raza Khan should resign due to what they call the ECP's alleged failure to conduct fair polls.

"We want to make it clear that candidates, who have any complaints, can utilise the legal course of action available to them. In the civilised and democratic countries, any illegitimate demand is considered violation of law and constitution," the statement said.

The ECP said it expects winners and losers of elections to respect people's mandate, accept results and play their role for continuity of democracy.

The ECP rejected outright the demand for resignation of the CEC, saying that allegations against 'free , fair and impartial' elections without any proof are unfortunate and against the ground realities. It claimed that people used their right of franchise in a free manner.

"We have not received even a single complaint about rigging in the polls.  Around 30,000 observers including 400 foreign observers and media representatives, and 19,000 Fafen [Free and Fair Election Network] observers in their preliminary report have termed the polls fair which is victory of people of Pakistan and democracy."

The statement quoted the reports of EU observer mission, Commonwealth and Fafen. It said in order to provide level playing field to all political parties, the ECP issued various directives using its powers.

"On a petition of the PML-N [Pakistan Muslim League-Nawaz], the ECP directed NAB [National Accountability Bureau] not to take action against any contestant till the polling concludes.

"Similarly, when  a court convicted the PML-N candidate from NA-60, the ECP postponed polls in the constituency to make sure no party is kept away from the contest," it added.

Referring to Pakistan Peoples Party's (PPP) complaint that rallies by the PPP Chairman Bilawal Bhutto Zardari were stopped during election campaign, it said when the ECP came to know about it, it immediately took notice of it and ordered inquiries.

ECP orders recount in 70 constituencies

The ECP had also been warning provincial governments about violation of code of conduct. It also cited actions taken to ensure people can have access to all relevant information about contestants, delimitations, election programme and scrutiny process by putting all documents on website.

The ECP secretary said the polls supervisory body had set up complaints centres at its central secretariat and provincial chapters which worked 24 hours on the polling day. A total of 674 complaints were received which were addressed immediately.

The ECP also considered 100 applications for recount and ordered recount in many of them. It has also sought explanation from the returning officers (ROs) on delay of results, would investigate failure of RTS and would take action against those found responsible, he added.
COMMENTS
Comments are moderated and generally will be posted if they are on-topic and not abusive.
For more information, please see our Comments FAQ