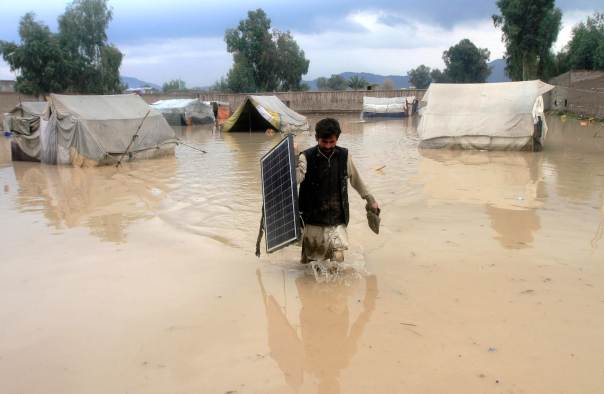 ---
ISLAMABAD: With the monsoon season underway in earnest, the mayor has directed the concerned departments of the local government in the capital to complete repair and maintenance works on of roads and storm drains to ensure the smooth flow of rainwater.

Chairing a meeting to review the progress made by the flood relief cell established by Islamabad Metropolitan Corporation (IMC), Mayor Sheikh Anser Aziz directed the Environment Director to ensure that all wild shrubs are removed and grass is trimmed.

He has also directed the Sanitation Directorate to take measures for collecting garbage and solid waste lying on the sides of storm drains, lest they are swept into them by rainwater.

During Monday's meeting, Aziz was told that the flood relief cell had been established to cope with any emergency situation during the monsoon season.

In this regard, the mayor instructed the concerned departments to warn slum dwellers living near the nullahs and direct them to vacate houses built too close to the nullahs to avoid damage in case of heavy rains.

He further requested residents to disconnect all illegal drainage connections, especially those which directly flow into the nullahs to avoid backflow in case of heavy rain.

He further tasked the Health Services Directorate to fumigate areas around storm drains, ravines and other areas.

Moreover, to cope with any untoward incident or natural calamity, Aziz instructed the Emergency and Disaster Management (EDM) Director to ensure the availability of vehicles and staff round the clock.

He also directed the Sewerage Division to take measures for clearance of sewerage system and remove any hurdles to ensure smooth flow of rainwater.

The flood relief cell has been working under the administrative control of the Emergency and Disaster Management (EDM) Director.

The members of the meeting were told that EDM Deputy Director had been nominated as focal person to manage a liaison with other formations so that the complaints could be addressed at the earliest.

The participants of the meeting were further apprised that the environment wing had removed fallen trees and wild bushes from the surroundings of different nullahs to maintain the smooth flow of water and complaints during the first rain spell were addressed promptly and no untoward incident was reported.

Published in The Express Tribune, July 31st, 2018.