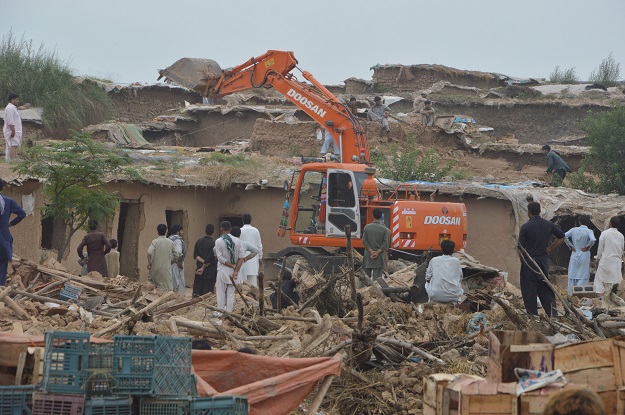 ---
KARACHI: Protests by Pakistan Quarters' residents made Estate Office's staff withdraw from the premises on Monday. They had come along with heavy contingents of police to forcibly get the quarters vacated.

A large number of people, including women and children, came out to protest when staff of the Estate Office reached Pakistan Quarters to oust its occupants. The residents claimed that around 10 days back, they had met the Chief Justice of Pakistan who told them to produce legal documents at the next hearing.

The protesters contended that the hearing pertaining to the eviction of Pakistan Quarters had been fixed for today (Tuesday) at the Supreme Court's Karachi Registry and the apex court had directed the authorities not to take action against residents of the federal employees' housing colonies before the hearing.

The Pakistan Quarters residents claimed that they would be appearing before the apex court to present all documents establishing their ownership of their houses. They said they would abide by any decision that would be announced by the apex court.

The Estate Office's staff and police left the site when they were informed about the SC hearing today.

'Illegal' occupants of federal employee residences brace for grand operation

Many residents of Martin Quarters also came out of their houses on Monday on rumours that the authorities were approaching to oust them from their houses.

Background

The federal government has declared families living in several federal housing colonies as illegal occupants. The colonies include Pakistan Quarters, FC Area, Martin Quarters, Clayton Quarters and others. Many households living in these localities have been there for decades and they also claim to be legal owners of their houses.

Residents of Pakistan Quarters claim that the quarters were not the property of the federal government. Instead, the housing units were constructed on an evacuated property.

According to the residents, the federal government has not spent a single penny since 1980 for the maintenance of the quarters and they have themselves maintained the houses.