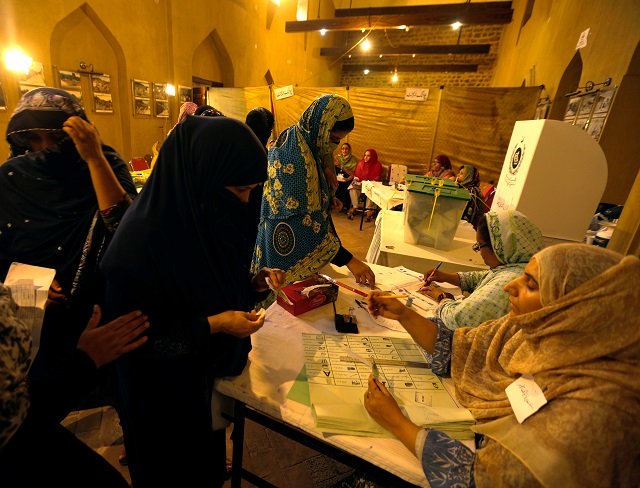 ---
KARACHI: A top electoral watchdog has said that the 2018 general elections in Pakistan have been "more transparent in some aspects" than the previous polls. It has, however, called upon the elections supervisory body to assuage the concerns of the political parties crying foul.

The Free and Fair Election Network (Fafen) – a network of more than 50 domestic civil society organizations – said in its preliminary report on Friday that the polling day was better managed and relatively peaceful until concerns emerged over the counting process and slow announcement of provisional results.

More than half of Pakistan's registered voters cast their vote for a second consecutive democratic transition of power, which cleared uncertainties over the future of democracy in Pakistan, it added. The election campaign was long-drawn and competitive, in an extremely polarized political environment punctuated by a spate of terrorist attacks.

In pictures: Pakistan celebrates the elections

Despite issues with the Result Transmission System (RTS) put in place by the ECP to meet the requirements of the Election Law 2017, Fafen acknowledged "significant improvements in the quality of critical electoral processes" that "inspired greater public confidence".

The ECP tried its best to improve voter registration, with a particular focus on increasing women enrollment on electoral rolls, as well as a greater diligence in following legally defined principles in delimitation and effective enforcement of campaign rules.

The ECP appeared to be more assertive in its attempt to deliver an improved quality of election. The electoral reforms that strengthened the country's election framework and granted expanded powers to the ECP clearly led to dividends.

However, the commission is expected to allay concerns of major political parties over integrity of results counting, tabulation and consolidation processes by employing its expanded powers to discipline and penalise officials and institutions that are found to be responsible for the technological failure that compromised its otherwise "demonstrable successes" in ensuring a better quality election.

"It does not augur well for the ECP to reject the concerns of major political parties (PPPP, PML-N, NP, MMA, ANP, PSP, MQM, without conducting a probe into the matter, as otherwise the country may spiral into phase of political and public protest and outcry that inhibits political stability," read the report.

Voter turnout stood at 55.8 per cent, says ECP

"There's a dire need for them [ECP] to clear the air about the vote counting process and delay in results to the parties that have levelled rigging allegations," Fafen spokesperson Sarwar Bari told The Express Tribuneon Friday. "The law must take its course, if anybody is found culpable," he added.

Some political parties have alleged that their polling agents were not given Form 45, which contains complete results from a polling station. "Only one polling agent of every party is allowed when Form 45 is given out by the polling staff, so we can't rule out the fact that it could be a misunderstanding," Bari said.

The ECP oversaw an unprecedented deployment of government employees on election duties. For the first time, the commission deployed independent returning officers (ROs) for all national and provincial assembly constituencies, which initially caused some procedural issues, such as finalization of polling schemes, but were timely addressed by the commission.

"As many as 811,491 personnel to be deputed for election day duties were trained to perform functions as presiding officers, assistant presiding officers and polling officers at 85,317 polling stations with 242,088 polling booths that were setup in 272 National and 577 provincial assembly constituencies," the report further read.

Deployment of as many as 371,000 armed forces personnel on election duties, despite questions from some political parties, ensured the peaceful conduct of election day amid heightened threats of subversive acts.

Man creates his own elections to vote

With massive deployment of armed forces alongside police and other law enforcement agencies, citizens felt reassured and came out to vote in large numbers.

Except for the unfortunate deaths of 31 people in a blast outside a polling station in Quetta and killing of one political party worker in an armed clash with rivals in Swabi, the election day only witnessed a few minor incidents of verbal or physical brawls that were contained by the security forces.

The voting process generally remained smooth. However, Fafen observers reported at least one instance of procedural irregularity at one-third of 37,001 polling stations, from where observation reports have been received. Many of these irregularities, however, may not have a material effect on the election outcome.

Nevertheless, the ECP will do well to continue to strengthen its enforcement of electoral law and regulations by ensuring greater diligence by polling officials deployed for election duties.

According to the Fafen assessment of provisional results of the count (Forms 47) of 241 National Assembly constituencies as announced by the ECP, the voter turnout remained 53.3 per cent.

The highest turnout was witnessed in Punjab, where 59 per cent of registered voters went to the polls in 127 National Assembly constituencies, for which provisional results were available.

Interestingly, 35 National Assembly constituencies with a close race have rejected votes greater than the margin of victory – 24 in Punjab, six in Khyber-Pakhtunkhwa, four in Sindh and one in Balochistan.

It is essential for the ECP to ensure that the ROs diligently review the ballots excluded from the count at the polling station level in these constituencies during the consolidation proceedings, the watchdog suggested.

There are at least two National Assembly constituencies where, according to the provisional result, the women voters' turnout was below 10 per cent of the polled votes – NA-10 (Shangla) and NA-48 (North Waziristan Agency).

Under the provisions of the Elections Act 2017, where the turnout is below 10 per cent of the polled votes after the consolidation of results, the ECP has the power to declare the elections in these constituencies null and void and to conduct a re-poll in one or more polling stations or the entire constituency.
COMMENTS
Comments are moderated and generally will be posted if they are on-topic and not abusive.
For more information, please see our Comments FAQ