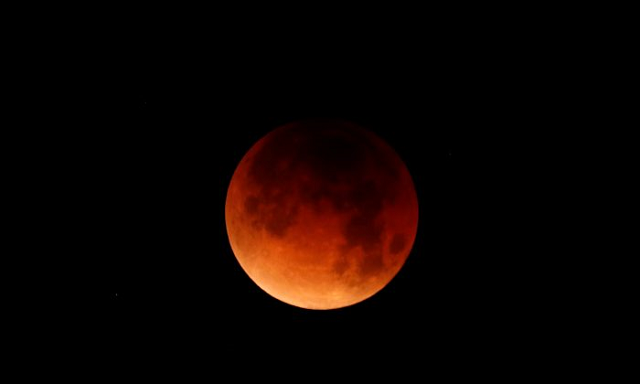 ---
ISLAMABAD: Citizens are in for a treat as they will be able to see the century's longest lunar eclipse on the night of July 27 as it will go on till July 28 morning.

According to The National Aeronautics and Space Administration (NASA) the Moon will pass through the Earth's shadow and colour the moon red for more than one hour and forty minutes.

Talking to The Express Tribune, Abdul Rashid, director climate data processing centre, Pakistan Meteorological Department (PMD) said that the lunar eclipse will be witnessed from Europe, Asia, Australia, Africa, South America, Pacific, Atlantic, Indian Ocean and Antarctica.

Rashid added that the lunar eclipse shall have various stages and in the country with all phases being visible

He said that the lunar eclipse would seen from naked eye nationwide.

"It will last for 103 minutes, making it the longest eclipse of this century," he said.

'Super Blue Blood Moon' lights up night skies in Pakistan

"The penumbral eclipse will begin on July 27 at 10:15pm with its partial phase will kick off at 11:24pm and the total eclipse will be visible at 12:30am on July 28," Rashid said.

"Meanwhile the greatest eclipse will be visible at 01-22 PST on July 28 which is going to be a historical moment," the PMD official said.

Later its partial phase will start at 03:19am, and the penumbral eclipse will end by 4:29am.

Mostly a lunar eclipse occurs twice or thrice a year, but this one will be rare owing to its long duration and visibility from globally.

According to the experts the moon will be the farthest and smallest full moon of the entire year and it will produce the longest total lunar eclipse that many of us on Earth will never get a chance to see again.