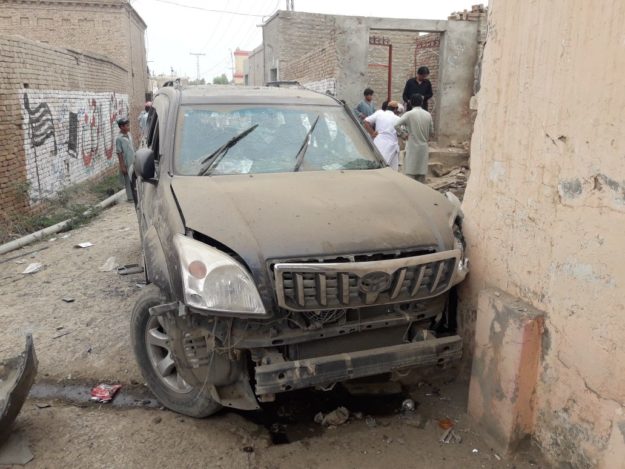 ---
After the latest brazen attack targetting politicking in the country which saw Pakistan Tehreek-e-Insaf (PTI) leader Ikramullah Khan Gandapur being martyred in a suicide attack in Dera Ismail Khan, social media lashed out at the perpetrators and questioned the 'double standards' when it comes to the party.

The PK-99 candidate's convoy came under attack on the outskirts of the district in which his driver also lost his life.

Army Chief Gen Qamar Javed Bajwa expressed his grief on Gandapur's martyrdom.

PTI's Ikramullah Khan Gandapur martyred in DI Khan suicide blast

The COAS termed Gandapur as a patriot, who was targetted by the enemies of peace and democracy. Gen Qamar added that the nation remains determined and steadfast and the blood of the martyrs would not go to waste.


COAS expresses his grief on martyrdom of Ikramullah Gandapur in suicide attack. "We have lost another patriotic political leader who are being targeted by enemies of peace & democratic process. We stay determined & steadfast. Blood of our martyrs shall not go waste, IA", COAS.

— DG ISPR (@OfficialDGISPR) July 22, 2018


Pakistan Thereek-e-Insaf (PTI) supremo Imran Khan also conveyed his sadness and shock at the heinous attack by condoling the families of the victims.


Saddened to learn that Ikram Gandapur succumbed to his injuries. My prayers go to his family. May Allah give them the strength to bear this loss.

— Imran Khan (@ImranKhanPTI) July 22, 2018
زخموں سے چور اکرام اللہ گنڈا کی شہادت کی خبرافسوسناک ہے۔ اللہ پاک انکے لواحقین کو یہ صدمہ برداشت کرنے کی توفیق عطا فرمائیں۔

— Imran Khan (@ImranKhanPTI) July 22, 2018


Pakistan People's Party (PPP) leader Faisal Kundi said that "this is another blood drenched election in Pakistan".


Strongly condemn the suicide attack on Ikram Gandapur in DIK. Earlier his brother Israr Gandapur was martyred in suicide attack & his family accused Ali Amin Gandapur, #PTI for it. Today Gandapur tribe has given call for Dharna to arrest culprits. @BBhuttoZardari @sherryrehman pic.twitter.com/y8dZcl81Ci

— Faisal Karim Kundi (@fkkundi) July 22, 2018
Ikramullah Khan Gandapur passed away. May Allah rest his soul in peace and accept his Shahadat.
اِنَّا لِلّٰہِ وَاِنَّآ اِلَیْہِ رَاجِعُوْنَ!

— Dr. Arif Alvi (@ArifAlvi) July 22, 2018


Muttahida Qaumi Movement-Pakistan (MQM-P) leader Faisal Subzwari termed the incident "a tragedy" and hoped the country would be saved from the menace of terrorism.


OMG. What a tragedy. Earlier our friend & a brave young man Asrar Ullah Gandapur martyred in a suicide attack & now his brother. May Allah rest his soul in peace. May Allah save everyone & rescue Pakistan from this menace of terrorism https://t.co/ZOGRpZlZuD

— Faisal Subzwari (@faisalsubzwari) July 22, 2018


PPP chairman Bilawal Bhutto Zardari also conveyed his deep grief and sorrow over the martyrdom and sympathised with the members of the bereaved families.


#PPP Chairman @BBhuttoZardari expressed deep grief and sorrow over the martyrdom of #IkramullahGandapur and his driver and sympathized with the members of bereaved families https://t.co/gT7AVUo4OX

— PPP (@MediaCellPPP) July 22, 2018


'Double standards'

Famous actor and PTI leader Hamza Ali Abbasi lashed out at political opponents for questioning less numbers of terrorist attacks on the party.


#IkramullahGandapur A PTI leader martyred by terrorists... R u happy now U shameless creatures who gave this barbaric logic that unless a PTI leader is targeted by terrorists then we will say terrorists support PTI. Rest in peace Ikramullah Shaheed. pic.twitter.com/hISz3XYtB9

— Hamza Ali Abbasi (@iamhamzaabbasi) July 22, 2018
COMMENTS
Comments are moderated and generally will be posted if they are on-topic and not abusive.
For more information, please see our Comments FAQ