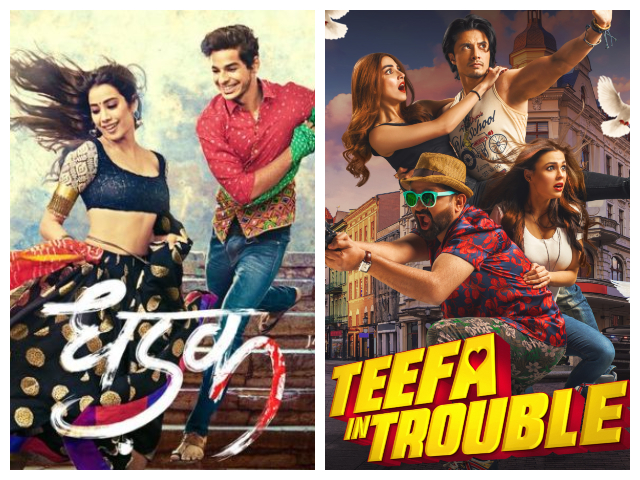 ---
LAHORE: The Central Board of Film Censors (CBFC) has cleared upcoming Bollywood film Dhadak for release here in Pakistan. The Punjab Film Censor Board (PFCB) and Sindh Film Censor Board (SFCB) reviewed it for release on Wednesday to confirm whether or not it would receive a clearance certificate.

However, if Dhadak manages to get the green light, its release will clash with Ali Zafar's Teefa in Trouble, as they are both slated to hit cinemas on this Friday, July 20.




"This weekend will probably be one of the busier ones due to the release of two new films. We are expecting both Teefa in Trouble and Dhadak to receive a great response from the public," an official of the Distribution Club told The Express Tribune. "Sridevi's death earlier this year may encourage the public to watch Dhadak. However, we also have faith in our local films. I believe both Teefa in Trouble and Dhadak will overshadow Sanju, even though Sanju is still playing in cinemas and providing great revenue."

Ali Zafar hopes 'Teefa In Trouble' leaves a mark in India

Sources revealed that CBFC issued its certificate after a thorough review during a board meeting held at its office and attended by all of its members. They then jointly issued a Universal rating certificate without making any cuts.




According to a PFCB official, members were invited for a full board meeting which was to be held on July 17. It is believed that PFCB will follow suit and also clear the Bollywood film for release without any cuts.

Dhadak is said to be a very simple love story without any objectionable scenes or dialogues. The film features Shahid Kapoor's brother Ishaan Khattar in the lead, opposite late Bollywood legend Sridevi's daughter Janhvi Kapoor. It marks the Bollywood debut for both lead actors.




The Shashank Khaitan directorial also features Aditya Kumar and Ashutosh Rana, among others. Film-maker Karan Johar has co-produced Dhadak with Hiroo Johar and Apoorva Mehta.

Girls can do anything in a film and that's the way it should be: Maya Ali

Teefa in Trouble has already received its clearance certificate, with the country's biggest cinema houses advertising its release. The film has been produced by the Pakistani singer-actor Ali himself, who also stars in it opposite Maya Ali.

Actors Javed Sheikh, Faisal Qureshi, Mahmood Aslam are also among the cast of the action-comedy. The forthcoming film is a family affair with Ali's wife Ayesha Fazli serving as the co-producer and brother Danyal Zafar having co-written it.

Although Ali has featured in numerous Bollywood films in the past, Teefa will be his first Pakistani film. In fact, it is also Maya's debut on the big screen.



Have something to add to the story? Share it in the comments below.