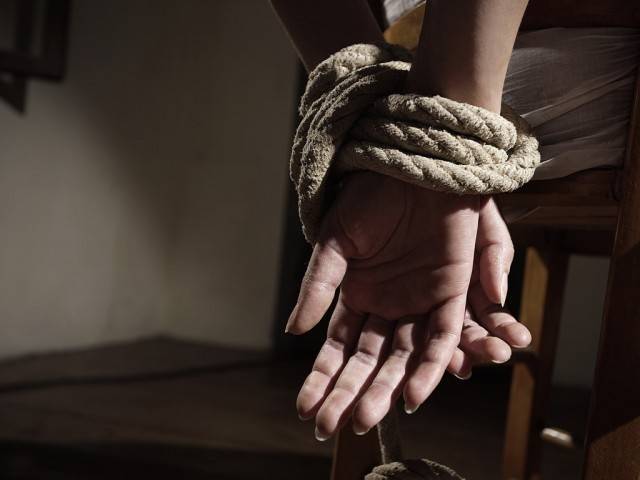 ---
ISLAMABAD: Police have recovered a businessman who had allegedly been kidnapped from the city two days ago.

Saad Awan, who runs an auto showroom in Rawat, had allegedly been abducted from the area on Thursday by over a dozen men who had arrived in two sports utility vehicles (SUVs).

The victim's brother told the police that shortly after Saad's abduction, they had received a call from an unidentified phone number. Instead of hearing the kidnappers, Saad's brother said that Saad spoke from the other end of the line.

The abductee explained that he was being held hostage and asked to arrange Rs2 million and deliver it to a location which would be disclosed later.

Saad's family, though, contacted the Sihala police and lodged a kidnapping-for-ransom complaint.

According to the complaint, Saad's family suspected business rivals to be involved in the kidnapping.

They noted that the identified suspects are already booked in another case and were even allegedly declared as proclaimed offenders in a case lodged against them by Saad last year.

Police subsequently registered a case of kidnapping against Majid Shah, Raheem Shah and 10-12 other unidentified men who came to the victim's showroom.

On Sunday, the police said that they had traced and recovered the victim after launching multiple raids.

While police recovered the victim, an officer said no suspects had been arrested.

Meanwhile, a man was killed after he was run over by a tanker at Motorway Chowk on Saturday.

Police have registered a case against the unidentified driver of the truck, who had fled after the incident and is still at large.

Shahzad Town police have also booked a man for allegedly sexually assaulting a minor boy in Farash village on Friday.

The suspect has not been arrested yet.

Also on Friday, three armed men looted a shop in Pathan Colony within the jurisdiction of the Sihala police.

Police have found no clues to the gang as yet.



Published in The Express Tribune, July 16th, 2018.