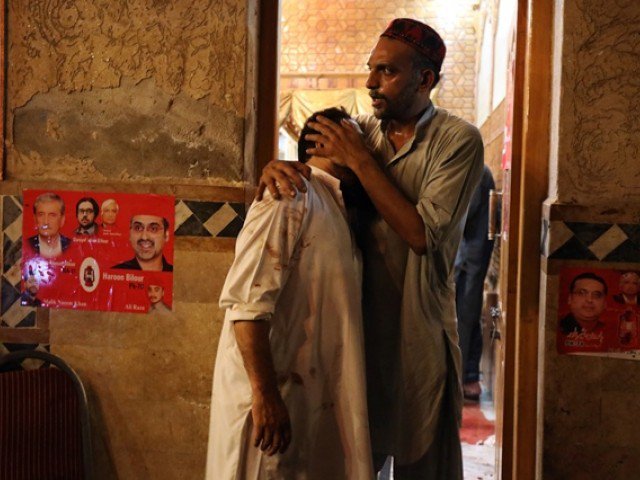 ---
PESHAWAR: In the wake of the recent spate of deadly terrorist attacks on political gatherings in the country, the Khyber-Pakhtunkhwa (K-P) government is set to establish Joint Crisis Management Units (JCMU) across the province.

The decision, which was made during a security coordination meeting on Saturday, also takes into consideration the looming threat to 21 political leaders.

"The units will be established at districts levels to serve as the nerve center for collecting intelligence reports, ensuring security arrangements before and after election campaigns and at the same time generate coordinated response in case of any untoward incident," the K-P interior ministry conveyed to police department.

Interim K-P govt orders major reshuffle after Peshawar attack

The communiqué read that not only the units at district levels, but sub-command posts of these units should be established at different parts of districts in order to reduce the response time in case of emergency.

"JCMU must have representatives from local armed forces' formation, police, levy, civil administration besides relief department [health, Rescue 1122 ]," it informed, adding that all representatives must hold coordination meeting immediately and review the situation regularly.

The official communication between the interior minister and provincial police department also read that politicians should be served security advisory before holding their corner meetings and that the advisory should be served on the politicians [under threat] in person, besides the compliance thereof should be ensured.

TTP claims responsibility for Peshawar attack on ANP leader as death toll rises to 20

The JCMU representatives have been told that it should ensure all the politicians nominated one representative for security aspect of election campaign. The representatives should be in close liaison with local police, civil administration throughout the campaign coordinating security of the candidate and place of political gatherings.

It also ordered that besides local police and other law enforcement agencies, politicians should also employee local representatives [of their own political party] so that the checking mechanism for entry and exit points of the political gathering can be further enhanced.

Security of election candidates and leaders under threat should be enhanced immediately including politicians' private guards, allowing them with permit of carrying weapons of prohibited bores.

Contacts should be established with management of all religious seminaries for keeping record of the visitors, it read, adding that civil administration should remain in close coordination with such institutions to monitor the situation in order to deny any space to the miscreants.

"Actionable intelligence reports should be shared by all the agencies with local police to thwart terrorist attacks," it read. The discussion also focused on threat assessment both in terms of threat to candidates and leaders as well as the possible mode of execution of the threat by militants.