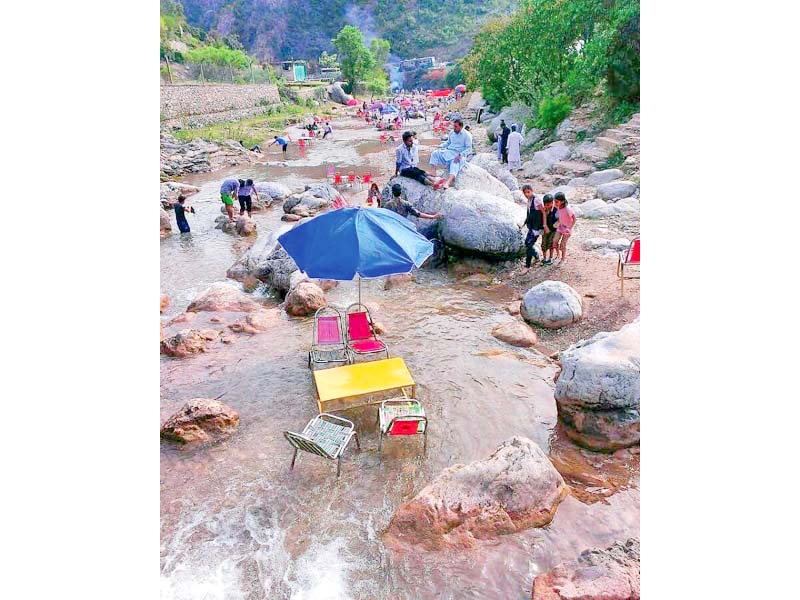 ---
ISLAMABAD: Famous for running cold water stream, and lush green hills, a natural picnic spot 'Shahdara' near federal capital is attracting a large number of visitors on weekend. The main attraction at Shahdara picnic point is a water stream.

The street food points were set up on the corner of water stream which attracts visitors. The seating arrangements of these food points in mid of stream make it more attractive for visitors.

Muhammad Ali, a visitor, said that it is really fun to sit in mid of stream and enjoy food with friends and family. He said that he visited this beautiful place for the first time and enjoyed a lot the natural beauty in the valley.

Shazia, another tourist said that it's a place like heaven on earth due to its lush green hills and running stream. She said that her whole family enjoyed a lot the beauty of Shahdara.

Asghar Kakar, a visitor said that it's peaceful and family picnic spot. It is located about seven kilometres from Bhara Khao and 15 kilometres from Islamabad.

Shahdara Valley is situated in the foothills of Margalla hills. The approach to this place is from Islamabad Kashmir Highway, road leading to Murree.

Published in The Express Tribune, July 14th, 2018.
COMMENTS
Comments are moderated and generally will be posted if they are on-topic and not abusive.
For more information, please see our Comments FAQ