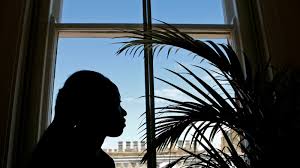 ---
ISLAMABAD : The United States Department of State in its latest report on human trafficking has kept Pakistan on Tier 2 and claimed that the government has taken insufficient measures including weak prosecution and lack of action against those influential persons complicit in related crimes.

The State Department released the report Trafficking in Persons 2018 where it has pointed out glaring official neglect on part of Pakistan in handling the human trafficking in and outside the country. Pakistan is on Tier 2 of the ranking for the last four years.

It points out the loopholes in the system and has stated that the government does not fully meet the minimum standards for the elimination of trafficking "however, it is making significant efforts to do so."

It states that the government demonstrated increased efforts compared to the previous reporting period, therefore, Pakistan was upgraded to Tier 2," it reads.

The government demonstrated increasing efforts by increasing the number of victims it identified and investigations and prosecutions of sex trafficking. The government of Punjab increased investigations, prosecutions, and convictions for bonded labour, the country's largest human trafficking problem.

Bonded progress: Pakistan at tier 2 in US human trafficking report

Besides provincial governments, the federal government continued to implement its 2015-2020 national strategic framework against trafficking in persons and migrant smuggling, however, the government did not meet the minimum standards in several key areas.

Overall government law enforcement efforts on labour trafficking remained inadequate compared with the scale of the problem.

Convictions for sex trafficking decreased and the government's overall convictions remained small compared with the extent of trafficking in Pakistan.

Government protection efforts remained inconsistent; only a small number of the total victims identified were referred to assistance services.

Prosecution

Pakistani law did not criminalise all forms of sex and labour trafficking. Section 369A of the Pakistan Penal Code (PPC) amended in March 2016, criminalised transnational and internal forced labour and transnational and internal sex trafficking of women and children.

Inconsistent with international law, Section 369A required a demonstration of force, fraud, or coercion to constitute a child sex trafficking offence, therefore, did not criminalise all forms of child sex trafficking.

The government's law enforcement action on labour trafficking remained inadequate compared with the scale of forced and bonded labour in Pakistan although overall investigations, prosecutions and convictions for bonded labour increased in Punjab.

US report on human trafficking warns against separating children and parents

Punjab was also the only province that reported taking law enforcement action under PPC section 374, unlawful compulsory labour, and section 369A, trafficking in human beings.

The government's lead reporting entity on human trafficking the Federal Investigative Agency (FIA) investigated human trafficking and migrant smuggling cases through its 27 anti-trafficking law enforcement joint task forces at the federal, provincial, and local level.

FIA's basic training for new recruits included information on human trafficking and migrant smuggling including training of 17 law enforcement officers in six anti-trafficking training sessions in 2017. 

Official complicity

The report identifies official complicity a "significant concern" as the government did not report vigorous efforts to address credible allegations and has not reported the conviction of an official found to be complicit in trafficking crimes for 10 years.

Some feudal landlords and brick kiln owners were affiliated with political parties or held official positions and reportedly used their influence to protect their involvement in bonded labour.

Some police reportedly acted against trafficking only when pressured by media and activists, and other reports indicated police accepted bribes to ignore prostitution crimes, some of which may have included sex trafficking.

In some cases, when bonded labourers attempted to escape or seek legal redress, police refused to file a case and some police even returned bonded labourers to their traffickers.

Speakers at TIP conference urge govt to build capacity for curbing human trafficking

In November 2016, members of the Gilgit-Baltistan (G-B) Legislative Assembly and senior officials from G-B were accused in media reports of involvement in a child sex trafficking ring; the government appointed a committee of members of the G-B assembly to investigate the allegations but did not report the outcome of the investigation.

In February 2018, Australian media reported the High Commissioner for Pakistan in Australia accused of subjecting her domestic worker to forced labour for 18 months; the government of Australia investigated the allegations and granted the victim protected status. The government of Pakistan did not report criminally or administratively investigating these claims.

Protection

The government increased victim identification but demonstrated mixed efforts to protect and assist victims. The government did not report training provincial officials, other than immigration officers, on victim identification. The government reported identifying victims at both the federal and provincial level; overall, it identified a total of 14,588 victims, an increase compared with 4,649 victims identified in 2016.

Government-run shelters were available to women experiencing a range of difficult circumstances, including trafficking victims.

Punjab reported all 36 district women's shelters in the province were operational. Sindh province operated three women's shelters in its 29 districts and also operated four centres that offered women in distress medical and legal aid and shelter for up to 72 hours.

Khyber Pakhtunkhwa reported six of its 26 districts had women's shelters, an increase of two during the reporting period, and Balochistan reported it operated one women's shelter in its 32 districts.

Trafficking profile

According to the report over the last five years, Pakistan is a source, transit, and destination country for men, women, and children subjected to forced labour and sex trafficking. The country's largest human trafficking problem is bonded.

Some feudal landlords and brick kiln owners affiliated with political parties use their influence to protect their involvement in bonded labour.

Pakistani men and women migrate voluntarily to the Gulf states and Europe for low-skilled employment—such as domestic service, driving, and construction work; some become victims of labour trafficking. False job offers and high recruitment fees charged by illegal labour agents or sub-agents of licensed Pakistani overseas employment promoters entrap Pakistanis into sex trafficking and bonded labour.

Recommendations

The report urges the governments to increase prosecutions and convictions, particularly of forced and bonded labour, while strictly respecting due process; pass an anti-trafficking law that criminalises all forms of human trafficking.

It also calls for strengthening the capacity of provincial governments to address human trafficking and improved efforts to collect, analyse, and accurately report anti-trafficking data, distinct from data on smuggling.
COMMENTS
Comments are moderated and generally will be posted if they are on-topic and not abusive.
For more information, please see our Comments FAQ