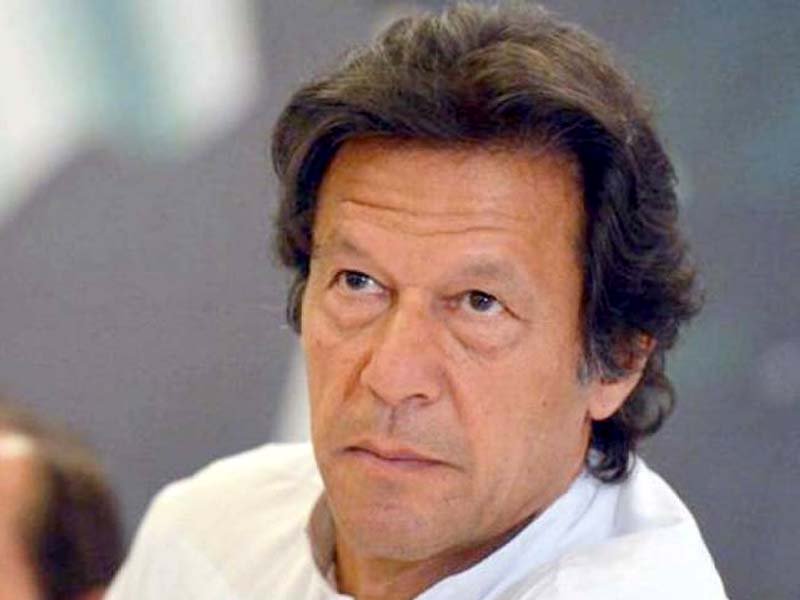 ---
BAHALWALPUR/ BUREWALA: Pakistan Tehreek-e-Insaaf (PTI) Chairman Imran Khan on Wednesday said that defeat has been written in the fate of Pakistan Muslim League Nawaz (PML-N) in the next general elections.

Addressing a rally in Burewala, a city district of Vehari, Khan said, "PML-N and Pakistan Peoples Party (PPP) have looted the country one after the other." He added that their children were now ready to take turn as they did.

"When one party was kicked out on charges of corruption, the second took over and they made rounds of corruption," Khan said adding "people were forced to choose one among these two as they had no other choice." He said that the two have overburdened Pakistan with foreign debt.

With regards to the PPP chairman, Khan said, "Baby Bilawal has not done a job, not even of a single hour, but he has come to save the country." He criticised Maryam Nawaz for telling lies over ownership of London flats. Khan said that Shehbaz sharif is brimming with joy after the court announced punishment to Nawaz Shairf, his daughter and son-in-law.

He said that Nawaz Sharif asks people to give respect to vote. "Yes, give respect to vote, but not to the thieves," he added.  The PTI chairman said that no nation can move forward if there is no rule of law. "Europeans do not distribute money but they have a system in which everyone equally enjoys the fruit of his success," he added. Khan said that the state gives unemployment benefit if it fails to provide jobs.

PML-N, PPP signed deal to plunder country: Imran

He said that the poor people in these countries receive best education, health facilities, and free of cost justice. "When a society has a fair system of taxation, the nation prospers," he added.  He said that new Pakistan would be a welfare state.

He said that farmers would be given chances to increase their earning because farmers always utilise their money in fields. "Research centres would be established where best medicines and fertilizers would be suggested," Khan added.

PTI rally in Rahim Yar Khan

Addressing a public gathering at Rahim Yar Khan, Imran said that he will bring short-term and long-term policies for water. "Bhasha Dam is the priority and will be brought to preserve water," he added.

Imran Khan said that death of Haroon Bilour in the suicide attack saddens his heart and his prayers are with his family. He praised Haroon Bilour and said that out of deference PTI has cancelled its public gathering in Peshawar as it was scheduled the same day as his 'Soem'.

He said that when PML-N and PPP came back 10 years ago, dollar was priced at Rs60. "In 10 years, it has gone up to the valuation of Rs125," he added.

He said that Zardari is handling the PPP but their candidates do not want his photo on their posters "rather they print Bilawal's photo," he added.

Nation waist-deep in debt: Imran

Khan said that the Rs70 billion money laundering case is upon Zardari and he is going to face the Supreme Court over the charges. "If Rs70 billion were spent on South Punjab or interior Sindh, the situation of these areas would have been different," he added.

"Shehbaz Sharif who has been cutting ribbons in his advertisements of roads, bridges, metro bus and orange train, has he been able to build a single university of international standard or a hospital meeting international standards," Khan asked.  He said that there is not a single hospital in Punjab where the Sharif family could have been treated.

He said that Ishaq Dar went to London for treatment and from time to time Shehbaz Sharif goes to London as well for treatment. "Even when the National Accountability Bureau (NAB) opened a case against Shehbaz Sharif's son-in-law, he fell sick and went abroad for treatment," Khan added.


COMMENTS (3)
Comments are moderated and generally will be posted if they are on-topic and not abusive.
For more information, please see our Comments FAQ