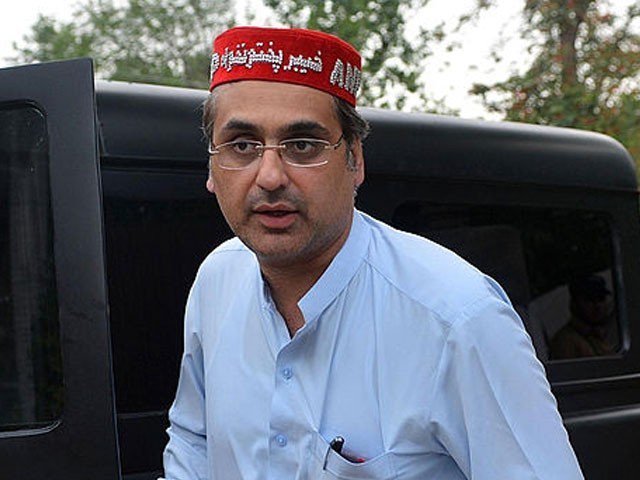 ---
PESHAWAR: Scores of young boys with red-caps on their heads were beating the walls of the Peshawar's Lady Reading Hospital, outraged over the demise of their beloved leader, Barrister Haroon Bashir Bilour, whose body was lying motionless in the hospital's emergency department.

The much-loved and charismatic Bilour died on Tuesday night in a suicide attack in the walled city of Peshawar. His late father Bashir Ahmad Bilour was killed in a similar attack in December 2012.

ANP leader Haroon Bilour, 12 others martyred in Peshawar suicide blast

Haroon was only 48 and was very close to his young party activists and supporters as he used to spend most of his time amongst them. He lived amongst the party workers like an activist and died with them in the blast.

His funeral prayers were offered by thousands of people from across the country at Wazir Bagh on Wednesday.

The eloquent and soft-spoken lawyer only took up a career in politics after the 2012 death of his father and the subsequent death of his brother Usman in December 2014 due to a cardiac arrest.

In the short time he had been actively involved in politics, he chiselled a niche of his own in the hearts of the people of the city.

The ever-smiling Haroon had courageously taken forward the fight of his martyred father and openly opposed the ideology of Taliban and other extremists.

TTP claims responsibility for Peshawar attack on ANP leader as death toll rises to 20

Like his father, at his political rallies, he would proclaim that those who murder innocent women in markets, destroyed places of worship, and murder innocent children can never be accepted in a civilised society.

Like his father, the Taliban saw him as a threat and attacked him just a few meters away from away from where Bashir's party gathering was attacked six years back.

The Bilour family has suffered much due to terrorism apart from Haroon and Bashir, former federal minister Ghulam Bilour's only son Shabbir Bilour was shot dead in a clash between ANP and Pakistan Peoples Party workers at a polling booth in 1997.  Even their homes have come under rocket and gun attacks.

After Haroon death, his son Danyal Bilour bravely came forward and told emotionally-charged workers to remain calm and peaceful, in line with the ANP's ideology of non-violence. "They will now come for me, but you have stand firm and take forward the ideology and struggle of the Bilour family," Danyal asked his fellow party workers.

The Bilour family is deeply attached with the politics of the Peshawar city. The family joined the Awami National Party in 1970 and are mainstays among the elected leadership here. They regularly faced off against national-level politicians in election including the late Benazir Bhutto, Imran Khan, and the former interior minister Aftab Sherpao. "As long as there are Bilours in Peshawar, no one can take the city," said Asfandyar while referring to the bond between the Bilour family and the people of Peshawar.

Political career

After passing the bar in England, Haroon returned to his hometown and joined his family business along with his elder brother Usman.  However, after some time, he followed the family tradition and joined active politics. He started from the grassroots level, winning local elections before eventually moving up.  In 2011, he contested his first election and was elected nazim of Town-1, Peshawar.

In 2008, Haroon contested his first general election but lost to the MMA candidate.

After the death of his father, he was assigned the portfolio of adviser to the chief minister on local government for a few months.

In 2013, he was to contested elections in the same constituency but was unable to conduct any campaign activities due to life threats and attacks on ANP workers.

More recently, due to the continuous threats, his friends advised him not participate in politics and stay on the sideline for some time, but he followed his father footsteps and respond to one that "the night we are destined for the grave, can never be spent at home."

Unlike 2013, this time, his election campaign was more vigorous and he was quite confident that a win was in the bag.



Published in The Express Tribune, July 12th, 2018.