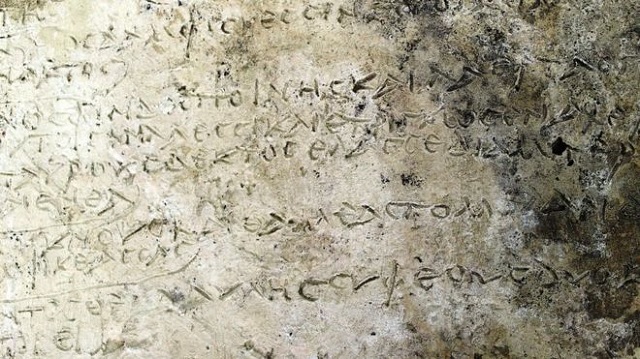 ---
A clay tablet engraved with an extract from The Odyssey was found by Greek and German archaeologists after three years of excavation. It is believed to be the oldest written record of Homer's epic The Odyssey.

The plaque is estimated to date to the third century AD during the reign of the Roman Empire and was found near the remains of Temple of Zeus in the ancient city of Olympia, southern Greece. The date has not yet been confirmed but the Greek culture ministry called the plaque "a great archaeological, epigraphic, literary and historical exhibit."

The Odyssey is ancient Greek poet Homer's second epic poem. It tells the story of Odysseus' 10 year journey back home to Ithaca after the battle of Troy while his palace is overrun by suitors clamoring for his wife's hand and Ithaca's throne. Estimated to be composed in the eighth century BC, the poem was part of an oral tradition and was not transcribed until the Christian era.

The thirteen verses on the tablet are from the Odyssey's 14th Rhapsody where Odysseus addresses his lifelong friend Eumaeus. The poem is a seminal work of the western literary canon.



This article originally appeared on BBC News. 
COMMENTS
Comments are moderated and generally will be posted if they are on-topic and not abusive.
For more information, please see our Comments FAQ