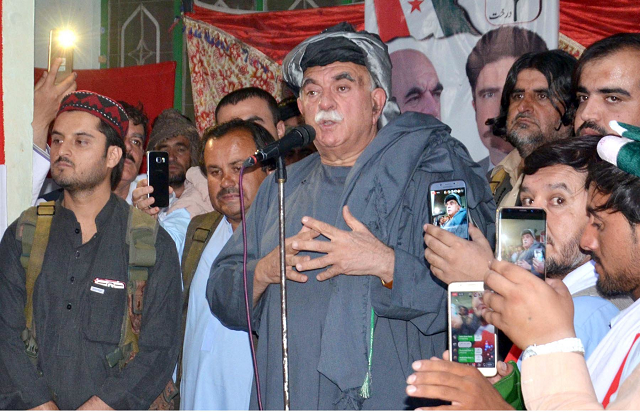 ---
QUETTA: Pashtoonkhwa Milli Awami Party (PkMAP) Chairman Mehmood Khan Achakzai has urged the Baloch and Pashtuns to launch a joint movement for their rights, saying further segregation can be hazardous for both of them in the region.

"We can't pick up arms to fight for our rights but no one can stop us from holding peaceful protests on the streets of the country," said the PkMAP chief while addressing a jirga in Quetta on Saturday.

PkMAP will not be part of future coalition: Bugti

He said, "Many people in Balochistan are offended by PkMAP because we demand equal rights for Pashtuns in the province. Today we have been barred from government jobs and other basic rights in our own land.

"Pashtuns have always been the vehement vocals for Baloch rights in the country as both are like brothers and have relationships that span over centuries."

Slamming Balochistan Awami Party, the PkMAP chairman said, "Those politicians who joined BAP are with the government since Britain invaded our land and are the ones who attacked Khan Shaheed and Bacha Khan's political gatherings before independence.

PkMAP lawmaker acquitted in vehicle tampering case

"When Pakistan came into being, those politicians joined non-political forces to destabilise the country's democratic governments."

On the current political chaos in the country, Achakzai said, "Democracy and parliament's supremacy is the only solution to the country's current crisis."

He urged all institutions not to get involved in political issues and let the country be run by politicians elected by the people.

"For 40 years Pashtuns are being killed in Afghanistan due to the war. Today they are being emblazoned as terrorists which is not true. Time has come to think about the country's future," Achakzai said, adding that "peace in Pakistan" depends on "peace in Afghanistan".

He demanded free and fair elections in the country and urged all institutions to work together to strengthen democracy in Pakistan.
COMMENTS
Comments are moderated and generally will be posted if they are on-topic and not abusive.
For more information, please see our Comments FAQ