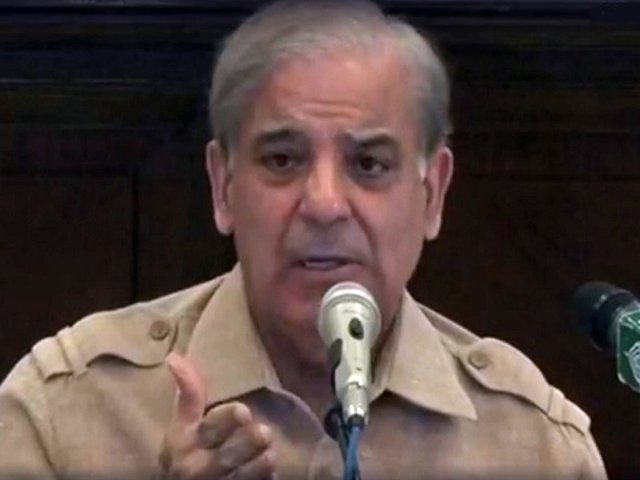 ---
LAHORE : [fbvideo link="https://www.facebook.com/etribune/videos/2405083606175318/"]

Shortly after the accountability court announced its verdict in the Avenfield reference against the Sharifs, Pakistan Muslim League-Nawaz (PML-N) President Shehbaz Sharif rejected the convictions calling them "unjust and politically motivated".

Fight or flight: Will Nawaz return to face challenges?


The NAB court's decision is based on oppression & cruelty. The name of Nawaz Sharif was not mentioned in Panama papers nor was it there as owner of Avenfield flats.

— Shehbaz Sharif (@CMShehbaz) July 6, 2018


Rejecting the accountability court's verdict in a corruption reference against Nawaz Sharif and his family members, the Pakistan Muslim League-Nawaz (PML-N) President Shehbaz Sharif has termed the accountability court's decision as unjust and "a dark chapter in the history of Pakistan".

"The Pakistani nation and the PML-N reject the accountability court's verdict as it is not based on any solid evidence against former premier Sharif," Shehbaz said while speaking to the media shortly after the court's decision on Friday.

PML-N leaders Mushahid Hussain, Khawaja Saad Rafique and other senior party leaders were also present at the news conference.

He said, "Sharif's name is not mentioned in the Panama Papers. There is no solid evidence in the entire case. It is an unfair decision and we will consider all legal options available for justice."


Pakistan Muslim League (Nawaz) strongly rejects the verdict of the Accountability Court in the Avenfield case. History will remember this verdict in black words. The decision is flawed, politically motivated & has glaring loopholes.

— Shehbaz Sharif (@CMShehbaz) July 6, 2018


Verdict in Avenfield case expected shortly

Shehbaz said the PML-N would go in 'public court' to prove Sharif's innocence on July 25, the day for the upcoming general election.

"The actual verdict will be given on the polling day when Sharif will be exonerated by the people's court," he added.

On a case in which an accountability court dismissed charges against another politician – Asif Zardari – due to non-availability of original documents, Shehbaz said, "Decisions of the courts should be acceptable by all. They should not be based on the concept of pick and choose."

He said in his brother's case, the court had announced decision even though there was not even a single piece of evidence which could establish that Sharif was the owner of Avenfield properties.

Shehbaz said the court's verdict was against the basic principles of justice and human rights as no proof was given against the deposed PM by the prosecution team.


There is no denying the fact that NAB has dual standards of justice. Proven corruption cases have been pending before NAB for many years. Some as old as ten years but no action was taken. Justice on pick & choose basis is no justice.

— Shehbaz Sharif (@CMShehbaz) July 6, 2018


He claimed that Sharif's name was not mentioned in the Panama Papers that led to his disqualification and institution of corruption cases.

Criticising the accountability watchdog, Shehbaz said the National Accountability Bureau (NAB) ignored corruption cases worth hundreds of billions of rupees and focused on one case of the former premier. "Sharif and his daughter put up over 100 appearances before the NAB … the court held trials even on weekends," he added.

He said Sharif made Pakistan a nuclear state by rejecting international pressure. "The way this son of the soil is being treated today, he does not deserve it," he lamented.

Shehbaz urged the party's candidates to continue their electioneering for the upcoming general elections and register their protest peacefully against this unjust decision of the accountability court. He indicated that the decision was also a bid to influence upcoming elections.

He pointed out that his brother's wife Kulsoom Nawaz was extremely ill but there was absolutely no regard given even to her. "The public's court and God's court are bigger and we and the PML-N will be taking our case to those courts," he added.
COMMENTS (4)
Comments are moderated and generally will be posted if they are on-topic and not abusive.
For more information, please see our Comments FAQ