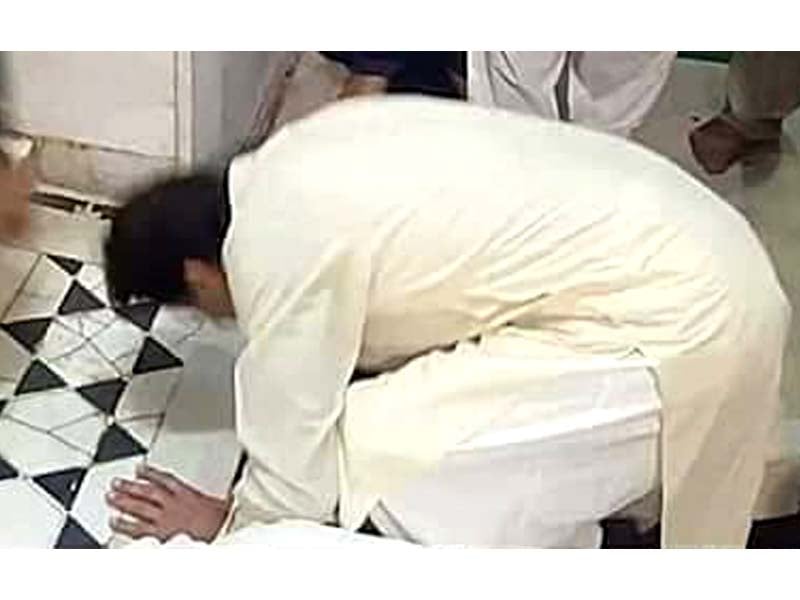 ---
KARACHI: A recent video clip showing Pakistan Tehreek-e-Insaf Chairman Imran Khan prostrating himself at the shrine of a revered Sufi saint in Pakpattan has sparked a heated debate on the social media.

Imran visited the shrine of Baba Fareeduddin Ganj Shakar (RA) with his wife on Wednesday night. The couple laid a floral wreath and a chador on the grave of the Sufi saint.

PTI will do 'everything in its power' to defeat PML-N in general elections: Imran

Imran was criticised for what appeared to be a sajda (prostration) at the doorsill of the shrine, not only by religious conservatives but also by those who claim to hold liberal and progressive views. Critics said Imran could stoop to any low in his quest for the office of prime minister.


This is more detail of the recent visit of Imran Khan and his wife inside the mazar, near the grave. Imran calls it spirituality. pic.twitter.com/FumEuL6mog

— Syed Talat Hussain (@TalatHussain12) June 29, 2018
This is Khawar Maneka ex-husband of Imran Khan's wife moving towards the mazar. This illustrates in graphic detail the ritual of 'sajda' that is being debated ferociously on social media. You can guess who is in the jeep. pic.twitter.com/7IvXptgufR

— Syed Talat Hussain (@TalatHussain12) June 29, 2018
Disturbing to see @ImranKhanPTI doing #Sajda on the steps of a shrine.

— Aniqa Nisar (@AniqaNisar) June 28, 2018


There were some sane voices among Twitterati who urged people to refrain from criticising personal beliefs.


Shouldn't be bothered how someone practices his/her faith (or doesn't). As long as they are not preaching or committing violence, it's their business. So kindly lay off IK's 'sajda.' Millions of Pakistanis do it. Your puritanical condemnation of it doesn't make you any better.

— Nadeem Farooq Paracha (@NadeemfParacha) June 28, 2018
I'm sure getting to the bottom of this #Sajda issue is going to put 22m kids in school, tackle the water stress headed our way, head off the economic mess we're looking at, expand the tax base and help us calibrate a smart foreign policy.
Absurd#PTI #PMLN #Elections2018 https://t.co/dATUZdqBtJ

— Kamran Bukhari (Advocate) (@MrSKIB) June 29, 2018
Despite political differences ,

Abominable to prey someone on religious grounds.#Sajda

— aliahmadkurd (@aliahmad_kurd) June 29, 2018


Supporters and followers of the cricketer-turned-politician jumped into the fray, defending their leader and explaining the difference between 'sajda' and 'kneeling down in respect'.

https://twitter.com/RajaSah67182910/status/1012254610470395906


After all these years the opposition has arguements against @ImranKhanPTI only on the basis of the following: #Shadi #NangayPairUmra #ZulfiBukhari #Shero #Sajda #kaptaanChapal , #ImranKhan #DaniyalAziz #CapitalTV @fawadchaudhry @FarhanKVirk @USharifAnsarii

— N A V E E D (@NoWeeeeed) June 28, 2018


https://twitter.com/RajaSah67182910/status/1012357063438229504

https://twitter.com/Mohd_Awais/status/1012277177101049856

All the commotion on mainstream and social media led Imran to come up with a clarification during a television interview on Thursday night.


Chairman PTI Imran Khan Exclusive Interview on Dunya Tv On The Front with Kamran Shahid (28.06.18) 12/18 @ImranKhanPTI #AbSirfImranKhanBallayPeNishan pic.twitter.com/6IsR4IuPRw

— PTI (@PTIofficial) June 28, 2018


He said a true Muslim only prostrates himself in front of God. "You can't be Muslim without believing in Allah and Prophet Muhammad (PBUH). This was not prostration, it was done in respect of Baba Fareed who was a great Sufi saint…I have read a lot about him," Imran said in the interview on Dunya News.

Reham accuses Imran of cheating on her with Bushra while they were married

The PTI chief clarified that his act was one of pure respect, love, and devotion. Baba Farid is someone who helped spread Islam in the region, he added.

"Millions of people gather at his shrine to show their respects and devotion towards the revered saint. It is wrong to say that I prostrated myself in front of the shrine … I only paid my respects and expressed my devotion towards him by kissing the doorsill of the shrine," he added.
COMMENTS (2)
Comments are moderated and generally will be posted if they are on-topic and not abusive.
For more information, please see our Comments FAQ