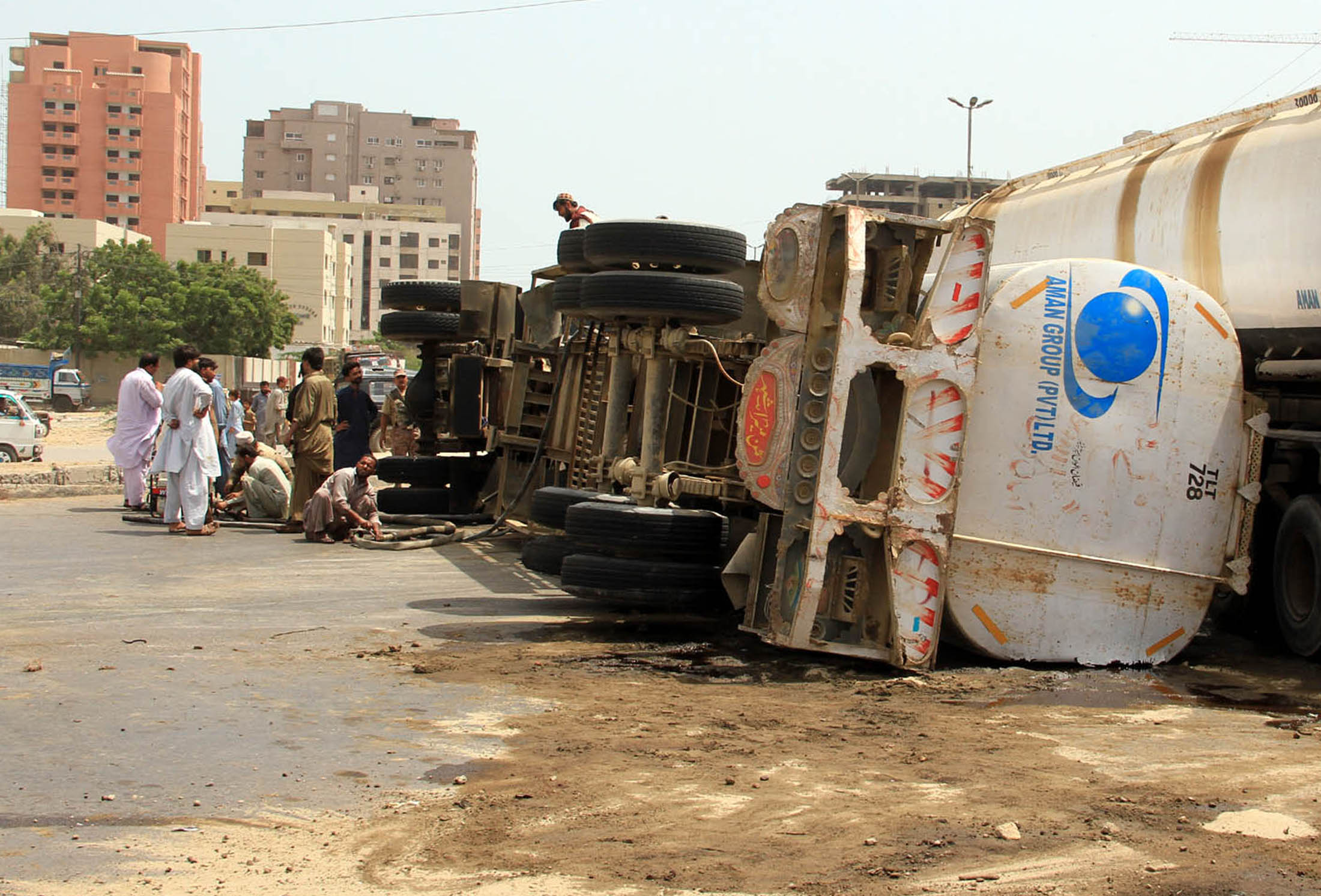 ---
KARACHI: An oil tanker overturned on Sunday in the Clifton area spilling a large quantity of oil in on the road.

The accident took place in an oil tanker depot located in Shirin Jinnah Colony in Clifton. A large contingent of police and Rangers personnel reached the site and cordoned off the area. The road was closed for general traffic, resulting in a traffic jam on the surrounding thoroughfares.

A crane was called to the site to lift the oil tanker while heavy machinery was used to clear the oil.

No casualties were reported in the incident. However, the tanker driver suffered minor injuries.

Road accidents claim five lives

The oil tanker depot in Shirin Jinnah Colony has been a subject of controversy for the past several years. Many years ago, the Supreme Court (SC) had declared it illegal and directed the authorities to construct a terminal for the oil tankers at an alternative place, after which work on the Zulfiqarabad Oil Terminal was initiated.

Time and again, the apex court reprimanded the authorities for delays in the completion of the new oil terminal. However, on last Wednesday, Karachi Mayor Wasim Akhtar informed the SC during a hearing at its Karachi registry that the terminal had been completed. The mayor complained that the oil tanker owners were not willing to vacate Shirin Jinnah Colony and relocate to the new terminal.

The Oil Tankers Association representatives argued that the mayor was not telling the truth and work was still in progress on the new terminal, to which, the mayor asked the SC to send its nazir to the site in order to verify his claims.

The SC ordered that all oil tankers be relocated to the new terminal. No tanker should be seen in Shirin Jinnah Colony after 15 days, the apex court decreed.