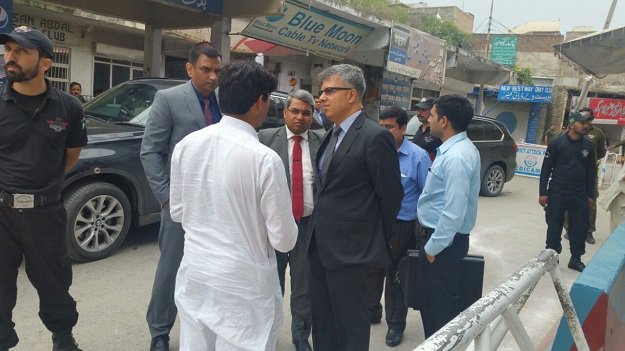 ---
LAHORE: The Sikh community barred the Indian High Commissioner and his wife from entering the Gurdwara Panja Sahib at Hassan Abdal on Saturday.

The community's reaction came after the verdict of the Indian Supreme Court on the Khalistan movement and the controversial film about the founder of the Sikh religion Guru Nanak.

According to Pakistan's Sikh Gurdwara Parbandhak Committee and Evacuee Trust Property Board (ETPB), Indian High Commissioner Ajay Basariya and his wife wanted to visit the Gurdwara and meet the Sikh pilgrims visiting Pakistan.

However, upon their arrival, the Sikh pilgrims visiting Pakistan planned a protest. Sikhs from all over the world are enraged over the Indian SC's verdict which allowed the release of film Nanak Shah Fakir across the country on April 13.

ETPB feared verbal altercations between aggrieved Sikhs and the Indian officials which is why they requested the commissioner to go back.

Sikh community bars Indian high commissioner, wife from entering Gurduwara

The staff of the Indian High Commission has also been prevented from entering Nankana Sahib. The measures have been taken to protest against a Bollywood film allegedly misrepresenting the biographical accounts of Guru Nanak.

In an exclusive interview with Express News, a leader of the recently-arrived Sikh delegation, Sardar Gurmit Singh, said the controversial film had hurt the sentiments of the entire community that's why they protested. "The Bandhak community has also joined the protest at Shromni Gurdwara."

He also slammed India for running a mala fide campaign against Pakistan.

Singh said that the negative propaganda from across the border had spread fear among Sikhs visiting the country. He maintained that the Indian media has been trying hard to malign the image of Pakistan by misrepresenting our protest.

Published in The Express Tribune, June 24th, 2018.
COMMENTS
Comments are moderated and generally will be posted if they are on-topic and not abusive.
For more information, please see our Comments FAQ