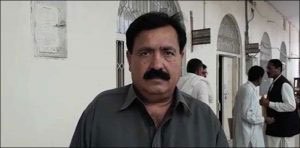 ---
MULTAN: Believe it or not! A man contesting the upcoming election from a dirt-poor district of South Punjab has revealed that all his assets are valued at a whopping 403 billion rupees.

Muhammad Hussain, alias Munna Sheikh who is in the run for Muzaffargarh's NA-182 constituency, made the revelation in the asset details he has submitted with the Election Commission of Pakistan (ECP).

It is mandatory for those aspiring to contest the elections to honestly disclose their assets. Interestingly, top politicians of the country have disclosed that the value of their total assets run into millions of rupees – a disclosure which many say is hard to believe.

In his affidavit submitted with the ECP, Muhammad Hussain said he owned 350 acres of farmland, orchards, three houses and home appliances. And the value of all these movable and immovable assets is Rs403 billion.

'Bilawal inherited all his wealth from family'

Hussain is honest enough to admit that he has not paid any tax on these massive assets.

"Most politicians who are contesting the upcoming elections either hide their assets or undervalue them in their affidavits," he said. "But I've honestly revealed all my assets and their real worth."

Hussain appealed to the chief justice of Pakistan to order an inquiry into the assets of all the politicians participating in the elections.

Hina Rabbani Khar, a former foreign minister, and Jamshed Dasti, a former federal lawmaker, also belong to Muzaffargarh – the constituency Hussain is running for.

Hamza Shehbaz has declared that his assets are worth Rs 410 million, making him richer than his father Shehbaz Sharif who, according to his asset details, owns 159 million rupees worth of assets.

Similarly, the total value of assets owned by PPP Chairman Bilawal Bhutto Zardari is also higher than his father Asif Ali Zardari's. Bilawal's assets are worth Rs1.5 billion, according to the ECP, while Zardari's assets are valued at Rs758.6 million.