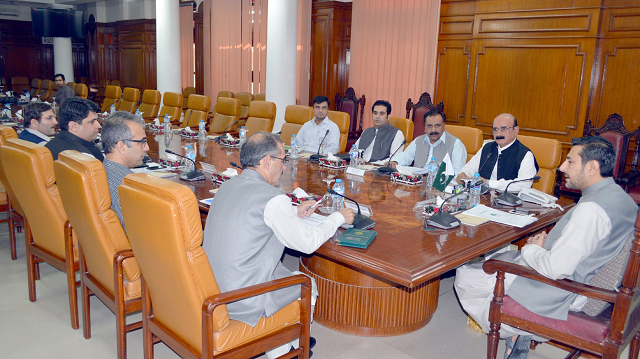 ---
QUETTA: Caretaker Balochistan Chief Minister Alauddin Marri has said that despite having natural resources worth billions of dollars, financial crisis has gripped the province.

"Earnest efforts and planning are required to bail out the province from crisis," said the caretaker chief minister while addressing a session to review the performance of the finance department on Friday.

Sharif's 'oblivion' to Balochistan crisis raises eyebrows

Balochistan Chief Secretary Dr Akhter Nazeer, Additional Chief Secretary for Planning and Development Hafiz Abdul Basir, Finance Secretary Qamar Masood and other officials were present.

Marri said, "We can't rely on the federal government for assistance to fill our financial gaps. Balochistan can stand on its feet if we pay keen attention to the China-Pakistan Economic Corridor project and the Gwadar Port."

The CM stressed for reforms in all provincial departments for boosting the economy and said, "There is an imperative need of tax reforms in Balochistan because despite having natural resources, we need to look at the federal government to fill our financial gaps.

$4m UNDP project helps rehabilitate 2010 flood affectees

"Utilisation of public money with dignity and honesty can save the province from financial crisis, which is why we all have to work hard and show sincerity towards our responsibilities."

He said there were dozens of investment opportunities like in the mining and fisheries' sectors which could be turned into a lucrative business for boosting the economy.

"We have to ensure a conducive and peaceful environment in order to persuade local as well as international investors to take interest," he said.

Baloch militants can't endanger CPEC project: Chinese envoy

On the importance of Gwadar Port, the chief minister said. "The multibillion development project CPEC will boost our provincial economy and we have to be ready with all necessary preparations. We have to functionalise the Balochistan Revenue Authority and Provincial Investment Board and discuss economic affairs with private investors."

On the financial issue with Sindh, the CM said, "The interim government has decided to discuss water and financial issues with Sindh as it owes Balochistan a lot."
Marri ordered strict surveillance of the performance of departments that got an increase in their yearly budgets.
COMMENTS
Comments are moderated and generally will be posted if they are on-topic and not abusive.
For more information, please see our Comments FAQ