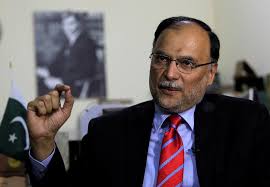 ---
LAHORE: Imran Khan is a naïve person and he cannot be entrusted with the fate of 200 million people, former federal interior minister Ahsan Iqbal said on Wednesday.

He was talking to reporters here after attending the proceedings of a contempt of court case against him in the Lahore High Court (LHC).

Criticising the chairman of Pakistan Tehreek-e-Insaf (PTI), he said: "The fate of 200 million people cannot be handed over to (such) a naïve person."

However, the former federal minister avoided commenting on his own case, saying that it was a sub-judice matter.

According to him, consistency in policies was a crucial requirement but Imran Khan lacked this ability.

Terming Khan inconsistent, he said that he (Khan) was even unable to decide the nomination of the caretaker chief minister in Punjab.

He wondered how a person could claim to be able to lead the country when he did not even have the experience of contesting local bodies polls.

Ahsan Iqbal said Pakistan had been facing internal challenges to its growth and stability.

Nisar, Imran chide ex-PM

Before the PML-N government, he said, more than 40 people fell victim to acts of terrorism almost every day, but his party had re-established peace across the country.

Reiterating his regard for the judiciary, he said that he held all courts in high esteem, adding that he was contesting his case against the mindset that was behind the attempt on his life.

Earlier, during the proceedings of his case, the three-member bench, headed by Justice Sayyed Mazahar Ali Akbar Naqvi, asked him why had he targeted the Chief Justice of Pakistan in his speech on the China Pakistan Economic Corridor (CPEC).

The bench also turned down his request for not screening his "contemptuous speech" in the courtroom and ordered the court officials to show the video.

Imran, Nawaz completed NA term with lowest attendance

Ahsan Iqbal said that he had simply complained to the Chief Justice of Pakistan in his speech.

The bench put off further hearing until June 22.

The bench also recorded statement of the accused involved in staging a rally against judges of the superior courts in Kasur and directed their legal representatives to present their arguments.

Accused Nasir Khan and Jamil Khan confessed to the crime before recording their statements.

Imran challenges rejection of nomination papers

However, former PML-N MNA Sheikh Waseem and Ahmad Latif pleaded not guilty. Former MPA Naeem Safdar and another accused have already recorded their statements in the case.

The case was later deferred till June 25.
COMMENTS (5)
Comments are moderated and generally will be posted if they are on-topic and not abusive.
For more information, please see our Comments FAQ