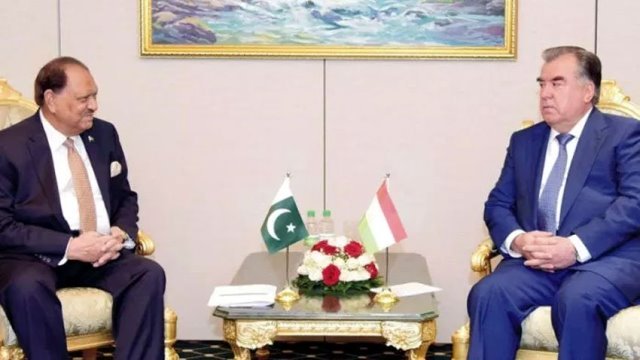 ---
President Mamnoon Hussain held bilateral talks with Tajiki President Emomali Rahmon on Tuesday, Radio Pakistan reported.

On the sidelines of a water conference in Dushanbe, the two presidents agreed to strengthen bilateral relations in areas of mutual benefit at a one-on-one meeting before delegation-level talks.

Earlier in the day, President Hussain visited Somoni Monument that celebrates 10th century founder of the Samanid Dynasty.  He is visiting Tajikistan on the invitation of President Rahmon for the high-level international conference on the "International Decade for Action – Water for Sustainable Development 2018-2028" scheduled to be held tomorrow (Wednesday) in Dushanbe.

The visit is supposed to shift focus to sustainable development and integrated management of water resources for achieving social, economic and environmental goals.


President to discuss energy ties during Tajikistan visit


The conference is being organised by Tajikistan government in cooperation with the United Nations and its entities, particularly the UN Department for Economic and Social Affairs. Tajikistan is planning to hold the meeting bi-annually to facilitate implementation of the water-for-sustainable-development programme.

According to reports, nearly 750 million people do not have access to clean drinking water globally whereas 2.5 billion lack access to basic sanitation. About 1.3 billion people are deprived of electricity.

Annually, water disasters cause $60 billion in economic losses while drought and desertification threaten livelihoods of more than 1.2 billion people across the world. Global climate change and demographic situation will undoubtedly elevate these issues.

Pakistan on path to stability, says President Mamnoon

According to estimates given by experts, world's population will increase to more than 9 billion by 2050, resulting in a surge in water demand. It is feared that due to the impact of climate change, more than 50% of the world's population will face water scarcity.

The United Nations General Assembly adopted a resolution on December 21, 2016 entitled "International Decade for Action – Water for Sustainable Development 2018-2028", sponsored by 177 member states of the world body.