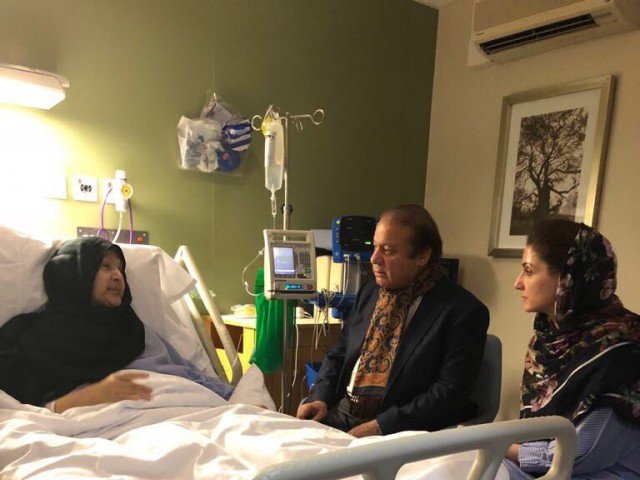 ---
Former prime minister Nawaz Sharif and his daughter Maryam Nawaz have postponed their plans to return to the country on recommendation of the doctors treating Begum Kulsoom Nawaz in a London hospital, sources said on Sunday.

The decision was taken after assessing condition of Sharif's ailing wife, who is said to have not regained consciousness since suffering cardiac arrest on Thursday, Express News reported on Sunday.

Bilawal in London, sends flowers to ailing Kulsoom Nawaz

On Saturday, Maryam said that her mother's condition remained unaltered, ruling out reports suggesting otherwise.


No, the doctors are not saying anything definitively at the moment. They say she's still very critical & under observation. https://t.co/D8brTEh5i7

— Maryam Nawaz Sharif (@MaryamNSharif) June 16, 2018


In another tweet, she said she and Nawaz Sharif called her mother, on the ventilator since Thursday, several times but in vain. "My heart wants Ami (mother) to open her eyes and talk [to us]," she wrote in Urdu, urging people to pray for her health.


ابو اور میں نے بہت آوازیں دیں ان کو مگر وہ جواب نہیں دیتیں۔ بہت دل کرتا ہے کہ وہ آنکھیں کھولیں، ہم سے بات کریں۔ اللّہ دعا سنتا ہے۔ دعا کیجیے https://t.co/AENVPlhJJV

— Maryam Nawaz Sharif (@MaryamNSharif) June 16, 2018


In another message on the microblogging website, she thanked PPP chairman Bilawal Bhutto-Zardari for praying for her mother's health and sending flowers to her.


Ameen. Thank you very much for your prayers & flowers. May your mother rest in eternal peace. https://t.co/WEJfxVG6GL

— Maryam Nawaz Sharif (@MaryamNSharif) June 16, 2018


Kulsoom Nawaz was shifted to the intensive care unit of the London hospital after her health deteriorated on June 14.

London police arrest suspicious man who tried entering Kulsoom Nawaz's hospital room

"Ami had a sudden cardiac arrest this morning when we were on the flight and (has been) on the ventilator since," her daughter Maryam Nawaz shared on Twitter. She requested well-wishers to pray for her health.

The former first lady is said to have not regained consciousness since.

The Sharif family is facing trial at an accountability court in Islamabad on corruption references filed by the National Accountability Bureau (NAB) in the wake of Supreme Court's July 28, 2017 verdict in Panamagate case disqualifying Nawaz and directing the anti-graft watchdog to launch an inquiry.

Nawaz, Maryam leave for London to meet ailing Kulsoom

On June 8, the accountability court had dismissed an application submitted by Nawaz and Maryam seeking exemption from personal appearance as they intended to visit Kulsoom in London.

However, the country's top court had granted them permission on June 10 while hearing a plea by accountability court seeking a third extension to conclude the trial against Sharif family. During the hearing, Chief Justice of Pakistan (CJP) Mian Saqib Nisar had asked them to make a verbal request so the apex court could allow them.