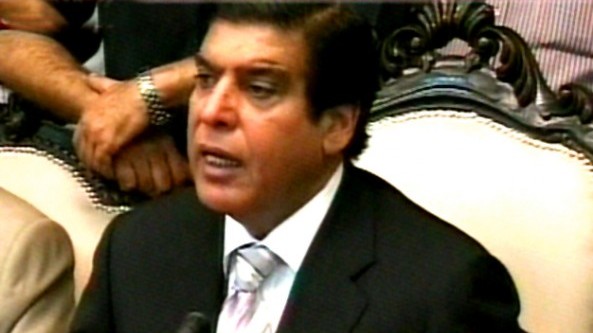 ---
LAHORE: Federal Minister for Water and Power Raja Pervaiz Ashraf said on Sunday the government was taking steps to double power generation from 20,000 megawatt to 40,000 megawatt during the next ten years.

In an interview with APP, he said that under the vision, 6000 MW electricity would be hydro based, 6000 MW coal based, 5000 MW on gas, 1000 MW on Naphtha and 2000 MW from renewable resources. He lamented that no project of power generation was launched during the last ten years due to which the country is facing loadshedding.

However, the present government was taking all necessary steps to squeeze more out of the existing system to reduce loadshedding, he added. Giving details, Raja Pervaiz Ashraf said that in order to generate 6000 MW hydel power projects by next ten years, the government will launch projects including Tarbela IV Extension (960 MW), Suki Kinari (840 MW), Neelum Jhelum (960 MW) and Dasu (2200 MW in two stages) and the remainder in small to medium sized projects.

 He said that there would be a special focus on smaller hydropower projects based on the extensive canal system in the agricultural heart of the country. The Minister said the proposed 6000 MW of coal-fired power projects would primarily be based on indigenous coal, which would also be supplemented by some projects on imported coal.

He said there were specific projects being developed especially in Sindh province such as Badin block and Thar, and more development was planned.

He said the proposed 6000 MW of gas-fired generation would be based on domestic gas resources as well as imported gas i.e. LNG imports through the proposed Iran-Pakistan pipeline. He said the gas from the proposed Mashal LNG project would be dedicated entirely to power sector, and at the current volumes envisaged upto 3000 MW of gas-fired power can be generated.

Additionally fields such as Kunar Pasakhi, Sinjhoro and various other discoveries would be dedicated to power production and these fields are estimated to yield at least 500 MWCFD from which 3000 MW additional power could be generated, he added.

For solar power generation, Raja Pervaiz Ashraf said, "we will focus on particular applications which have provedelsewhere to yield efficient benefits," he said and added that these include replacement of gas and electric waterheaters with solar water heaters, and replacing to the extent possible irrigation tube wells with pumps based on solar energy.

About wind energy projects, the minister said that such projects would be aggressively promoted for generation of minimum 1000 MW power in next 5 years. "We are committed that this capacity development happens along with low carbon emission," he added.

Federal Secretary for Water and Power, Shahid Rafi and MD PEPCO Tahir Basharat Cheema who were also present on the occasion endorsed the resolve of government to enhance power generation capacity and end loadshedding in the country.