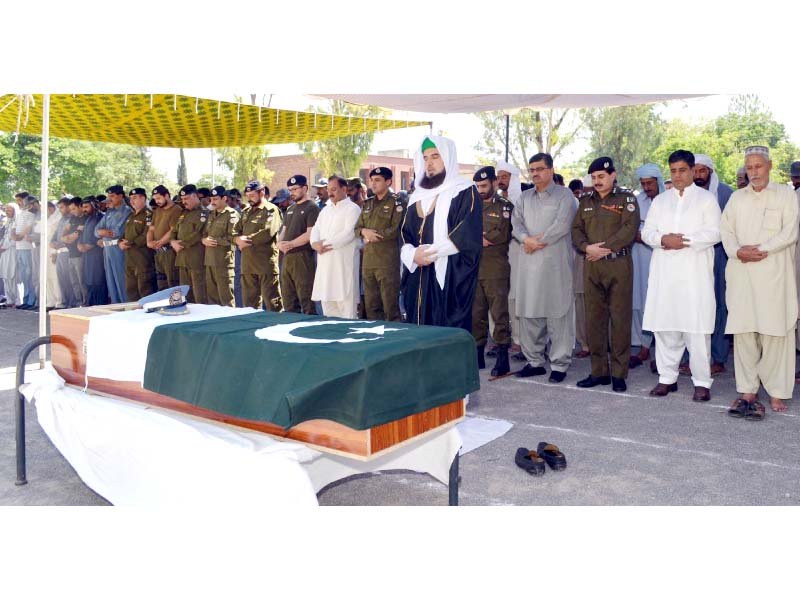 ---
RAWALPINDI: The funeral of a traffic warden, who had been martyred in a pre-iftar shooting on Tuesday, was held at the Police Lines in Rawalpindi on Wednesday.

According to officials, Traffic Warden Shahid Sarwar was on duty on Murree Road. Around 15 minutes before iftar, when a motorist was trying to park in a no-parking zone, Sarwar had confronted the driver of the vehicle and asked him to take his car elsewhere since they were not allowed to park there.

This apparently incensed the driver, who shot Sarwar.

Two traffic wardens gunned down, assailants meet fate in Quetta

Traffic Warden Sarwar's funeral prayers were attended by Rawalpindi Regional Police Officer Wisal Fakhar Raja, Rawalpindi Deputy Commissioner Talat Mahmood Gondal, City Police Officer Afzaal Kosar, Rawalpindi Chief Traffic Officer Bilal Iftikhar, Rawalpindi SSP Operations Muhammad Bin Ashraf, SSP Investigation Mir Abdullah, SP Potohar Syed Muhammad Ali, DSP Traffic-Headquarters Tamoor Khan, Murree Traffic DSP Raja Khan Zaman, DSP Raja Tafoor, and other DSPs, Inspectors and a large number of traffic officers.

According to a traffic police spokesperson, Sarwar was a resident of Kallar Syedan.

Moreover, he has two children and was only recently reinstated to the traffic police force after having spent two years in Dubai.

He was known by his comrades to be a highly dutiful and well-mannered man and was fasting when the incident occurred. 

Published in The Express Tribune, June 14th, 2018.