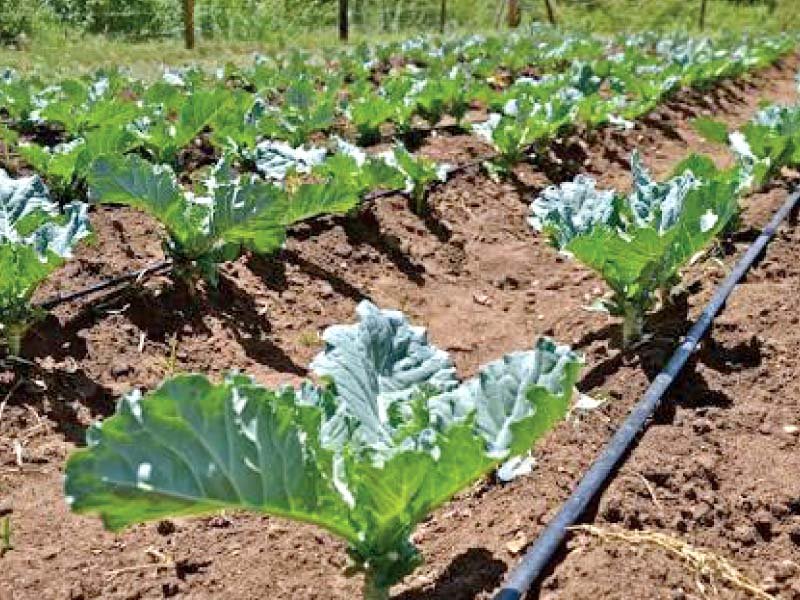 ---
RAHIM YAR KHAN: The government is spending Rs67 billion on drip irrigation to irrigate and allow cultivation on barren lands. This development will be vital in countering the shortage of water

This was stated by Agriculture Department Director General Malik Muhammad Akram while speaking to Express News on Monday.

He said the system is being used in rain-prone areas of the province to serve vegetable crops and fields.

He said due to a lack of planning to store water in the country, millions of cusecs were lost each year. Keeping in mind that the shortage of water was increasing by the day, drip irrigation system was being promoted.

'Drip irrigation system helps save water, increases yield'

He added, "The advantages of drip irrigation could be witnessed in areas where water is provided to vegetables and gardens spread over many acres of land."

"Under the project, the government is providing 60% subsidy on the construction of water ponds and 80% subsidy on the installation of solar system for drip irrigation," the agriculture DG maintained.




He said the system had been installed on 300 acres of land in Rahim Yar Khan District and thousands of acre in other regions.

He said by using drip irrigation, water is supplied to the roots of plants in the form of drops. This is enough water to fulfill the plants needs. He said the government was striving hard to promote the drip irrigation system by providing maximum subsidy.

Akram pointed out that the system helps the salts to move deep into the soil which is then absorbed by the roots of the plant.

"Drip irrigation system is suitable for crop cultivation when irrigation water or rainwater is not enough for conventional farming. This technology, so far, has been adopted by many farmers across Punjab owing to acute shortage of river water and limited rains."

"With this technology, farmers can save 60% of electricity and diesel costs augmenting per acre yield by 100%," the director general said.

Published in The Express Tribune, June 12th, 2018.
COMMENTS
Comments are moderated and generally will be posted if they are on-topic and not abusive.
For more information, please see our Comments FAQ