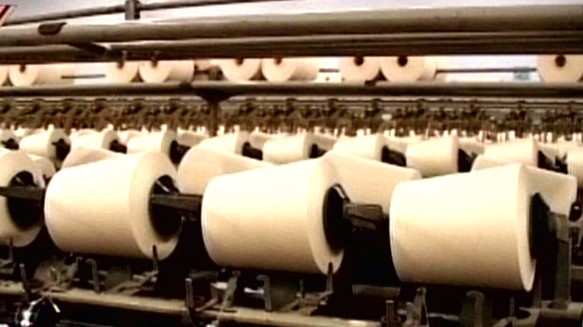 ---
KARACHI: Cotton yarn prices in the local market have dropped by at least 13 per cent since the government slapped a 15 per cent regulatory duty on yarn exports on May 12.

Jaguar Faisalabad Textile Industry CEO Naeemul Haq, while talking to The Express Tribune on Saturday, said yarn prices have been falling every day since the imposition of the regulatory duty. Naeem, who is one of the biggest yarn buyers of Faisalabad, said: "Yarn prices are decreasing on daily basis. Prices drop around one per cent every day."

Prices of basic 20-count yarn have decreased to Rs11,500 per 45 kg from Rs13,500 over the last 17 days, he said. "The attitude of spinners (yarn manufacturers) was discouraging before the imposition of the duty on yarn exports and they did not pay heed to complaints about yarn quality. But now spinners are contacting us themselves to sell their yarn," Naeem added.

Cotton Brokers Forum Chairman Naseem Usman said prices of all kinds of yarn are declining and it seems that the trend will continue in coming days. Pakistan Readymade Garments Manufacturers and Exporters Association (PRGMEA) Chairman Mohsin Ayub said yarn prices have declined by at least 10 per cent with the duty on exports. "Yarn availability has also improved," he said.

A meeting of spinners and the value added sector is scheduled for Sunday in Karachi which will review the duty on yarn exports, he said, adding "our stance is that the government should continue the duty until next cotton crop arrives in the market." The government had imposed 15 per cent duty on yarn exports because of its shortage and rising prices in the domestic market.

Both spinners and value added textile manufacturers had tried to convince the government to accept their points of view, but after a series of meetings the government imposed a duty on yarn exports. The value added sector welcomed the decision while the spinners opposed it, saying a free market mechanism should be followed.
COMMENTS
Comments are moderated and generally will be posted if they are on-topic and not abusive.
For more information, please see our Comments FAQ