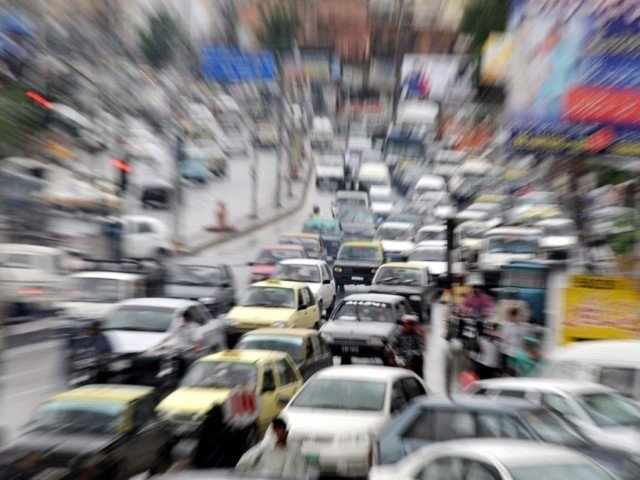 ---
RAWALPINDI: In order to avert traffic mess on city roads, City Traffic Police (CTP) Rawalpindi have devised a comprehensive traffic plan for the last 'Ashra' or 10 days of Ramazan.

The evenings of the last ten days of the holy month are significant due to heavy rush of people towards main mosques for special prayers and also the greater rush of buyers in the bazaars ahead of the festive occasion of Eid.

CPT has made special arrangements to regulate traffic load particularly in commercial areas of the town, said Chief Traffic Officer (CTO) Bilal Iftikhar.

"Traffic police squads have been deployed at all main intersections of the city whereas a helpline is working also set up at Racecourse Traffic Office," said Rawalpindi's traffic police chief.

The helpline is working 24-hour and providing assistance to people regarding traffic routes.

He said that City Traffic Police is striving hard and making effective measures to control one-wheeling and violation of other traffic rules.

In view of the security of the citizens, special traffic arrangements have also been made. Parking of vehicles near mosques, Imambargahs and other religious places will not be allowed. Under the plan, traffic police officers have been directed to keep a vigilant eye on suspicious vehicles.

Strict action in accordance with the law has also been ordered against vehicles having tinted glasses or moving in the city without number plates, he added.

Traffic wardens and officers have been directed to take strict action against double and wrong parking which causes traffic jam on city roads and create in-convenience for the road users.

He said special directives have been issued to the traffic wardens to take strict action against one-wheelers.

The youngsters with dangerous motorcycle driving not only endanger their own lives but also pose serious threat to others and interrupt traffic flow, he added.

He said it has also been decided that action would also be taken against motorcycle mechanics, altering motorcycles for racing and one-wheeling.

Traffic violators to soon get e-tickets

Security plan

Rawalpindi district police have deployed over 3,500 police personnel, police national volunteers, private security guards and women police to perform security duty at over 2,000 mosques, 87 imambargahs and other important places in the district.

The deployment is part of ecurity arrangements for last Ashra of Ramazan.

According to Rawalpindi police spokesman, on the special directive of City Police Officer (CPO) Rawalpindi, police have made foolproof security arrangements for last ashra of Ramazan, while special security arrangements had also been made for all the main mosques, Imambargahs, bazaars and other public places of the district.

According to the security plan, additional police officers have been deployed particularly to cover mosques and other religious congregations in the district while special check posts have also been established for the checking of vehicles at entry and exit points of the city. Rapid response squads have also been formed.

904 traffic accidents reported across Punjab

Main mosques of the city are especially being covered by armed police officers and only one main gate of the mosques will be opened  for the faithful. Security personnel will also use metal detectors and no one will be allowed to go in the mosques without body search, he added.

Plainclothes police personnel along with Elite Force have been deployed in the markets with the consultation of the traders, he added.

There will be no permission to park vehicles, motorcycles, cycles and handcarts near mosques and imam barghas.

According to police spokesman, best security arrangements with available resources have been made to ensure security of the city markets.

Published in The Express Tribune, June 9th, 2018.