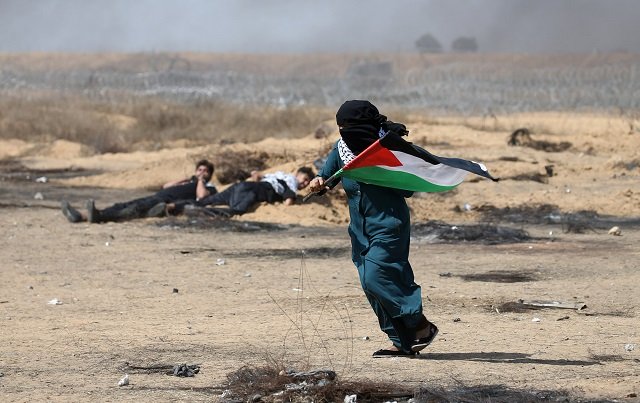 ---
GAZA: Two Palestinians were shot dead by Israeli forces on the Gaza border on Friday, the health ministry in Gaza said, as thousands again took part in anti-Israel protests.

Ziad al-Bareem was shot dead east of Khan Yunis in southern Gaza, while Nabil Abu Daraba, 26, was shot dead in the north of the territory, the ministry said.

Earlier this week, when a naive Palestinian with an axe who was trying to breach Gaza-Israel border, was also killed. Who was claimed as a terrorist by the israeli troops.

An army statement said troops thwarted an "infiltration attempt" by "two terrorists who damaged the security fence and were armed with an axe."

Soldiers "fired towards the terrorists, killing one of them," it added, without clarifying what happened to the second suspect.

Israeli troops kill 'axe-wielding' Palestinian trying to breach Gaza border

The death brings to 125 the number of Palestinians killed by Israeli fire in Gaza since March 30.

The vast majority have been killed during weeks of protests along the border.

Protests peaked on May 14 when at least 61 people were killed as tens of thousands approached the heavily fortified border in a demonstration coinciding with the controversial opening of the US embassy in Jerusalem No Israelis have been killed.