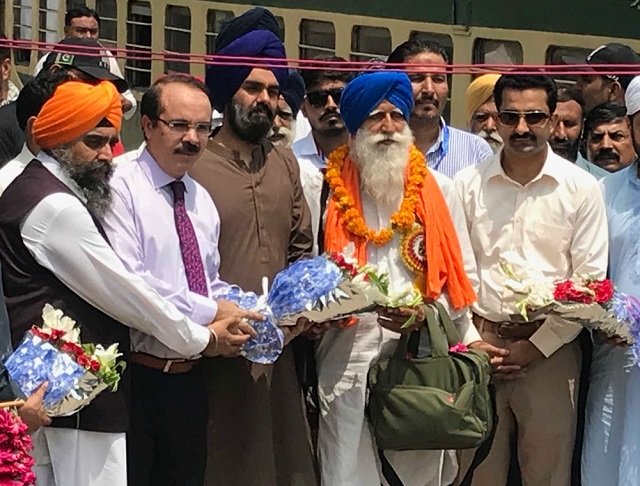 ---
LAHORE: Nearly 100 Indian pilgrims arrived in Pakistan on Friday to commemorate 412th death anniversary of Sikh's fifth guru Arjan Devji. The central event of Shaheedi din and Jorh Mela will be held at Gurdwara Dera Sahib in Lahore on June 16.

Despite boycott from India's Shrumani Committee and Delhi Gurdwara Management Committee, 84 Sikh pilgrims have reached Pakistan, under the supervision of Sardar Jung Singh and Sardar Pritam Singh this year.

The yatrees arrived in a special train from India's Attari Station to Wahga station Lahore, where Evacuee Trust Property Board (ETPB) secretary Tariq Wazir Khan, deputy secretary Imran Khan, Sikh Gurdwara Parbandhak Committee's leader Sardar Tara Singh, Sardar Bushan Singh and other officials welcomed them.

Pakistan's Sikh community fights off Indian allegations on lack of crematoriums

During their nine-day-long stay in the country, the pilgrims will visit Nankana Sahib, Gurdwara Panja Sahib Hasanabdal, Darbar Sahib Kartarpur, appear before Sacha Sauda Farooqabad, perform Akhand Path and Bhog ritual on the occasion of Shaheedi din and Jorh Mela. They will return to their country on June 17.

The India Shrumani Committee and Delhi Gurdwara Management Committee had applied for the pilgrims' visa from June 9 to June 19 in deviation from an already approved schedule, which were rejected. The two Indian Sikh committees then boycotted the event for this year.

The Indian authorities, in reaction, even refused to allow special train from Pakistan for the Sikh pilgrims to enter India.

Pakistan denies inciting Sikhs on 'Khalistan' issue

However, after telephonic conversation between Pakistani High Commissioner in New Delhi Suhail Mehmood and Indian High Commissioner Ajay Basariya, the Indian authorities agreed on the special train and the pilgrims were then allowed to leave for Pakistan.

Speaking to reporters, ETPB secretary Tariq Wazir Khan urged the international Sikh community to resolve difference within their ranks through dialogue. He said India used delay tactics in connection to sending Sikh yatrees to the country this year. He vowed to provide the best possible security, accommodation and other related facilities to the Indian pilgrims during their stay in Pakistan.