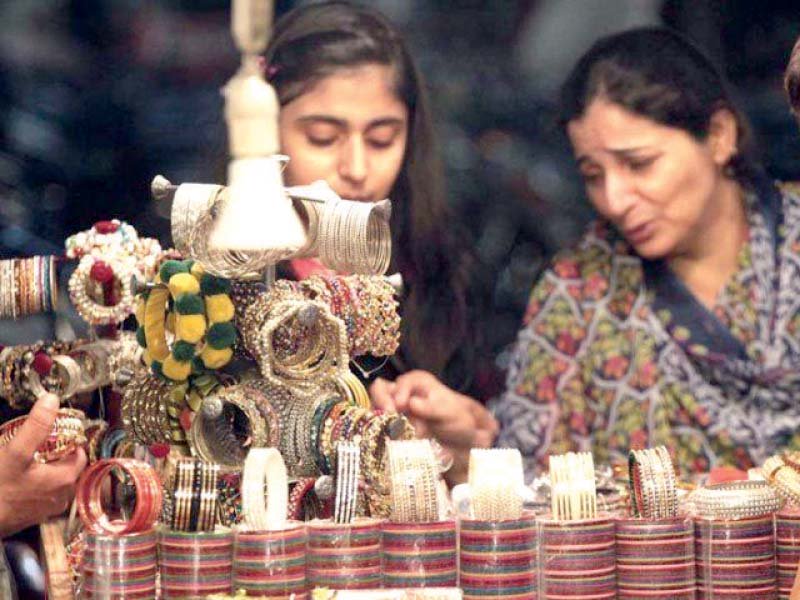 ---
With the completion of the second Ashra of Ramazan, shoppers have inundated markets in anticipation of Eidul Fitr. Decked out in colourful lights and streamers, all commercial areas have been given a temporary makeover in order to attract more customers.

Immediately after Iftar, a small army of women, children and young adolescents flood shopping malls and markets to buy new clothes, shoes and accessories for Eid.

"Shopping during the daytime while one is fasting, and the sun and the heat is literally baking us alive, is impossible", exclaimed Rabia Nadeem, a frequent shopper at Liberty Market. "At least in the evening, after Iftar, you can be at ease while shopping with your friends and family.".

However, not all shoppers are thrilled at the prospect of visiting these markets. Muhammad Ishfaq, another shopper, was alarmed at the steep prices.

"Middle to lower class families are only going shop to shop to ask the prices. They aren't buying anything just yet, they are hunting for the best bargain," he lamented.

Eid shopping picks momentum in metropolis

Tufail Khan, a trader who supplies readymade garments to various markets across the city, admitted that there had indeed been an increase in prices over the year.

"But by mixing and matching materials, we try to produce garments for people belonging to all sorts of economic backgrounds, especially during Eid," he maintained.

He denied the claim that traders hike up rates ahead of the season. During Eid, shopkeepers prefer to sell all of their merchandise, even if the profit margin is reduced, because of its sheer quantity, he explained." It is not financially beneficial to store the stock in warehouses after Eid is over," he said.

And the festivities are not only limited to what one will wear on the day. Usama Khalid, a manager of an online shopping portal, revealed that local and international brands were offering sales and discounts on everything from fashion to electronics.

Shopping malls, beauty salons, tailors, grocery stores etc, all make the most amount of money during Eid, he claimed.

Yet, with rapid commercialisation and new shopping malls being constructed every minute, older markets seem to have lost their charm for citizens. Despite the fact that the city traffic police has made special arrangements to ensure smooth traffic, citizens still have to conquer huge crowds and congested roads, not to mention a lack of parking.

Once upon a time, the entire city used to come to Anarkali, Mall Road and Liberty Market , especially on occasions such as Eid, expressed Ahmad Butt, a shopkeeper from Anarkali Bazaar. Nowadays though, people prefer to go to big shopping malls, he stated.

Published in The Express Tribune, June 7th, 2018.
COMMENTS
Comments are moderated and generally will be posted if they are on-topic and not abusive.
For more information, please see our Comments FAQ