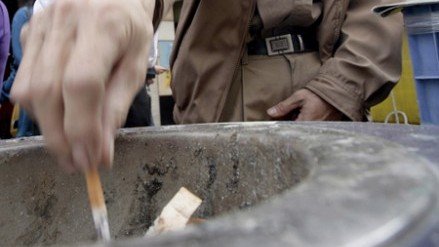 ---
RAWALPINDI: The Pakistan National Heart Association (PNHA) have joined forces with the City Traffic Police to observe a week-long anti-smoking campaign in the federal capital to mark the World No Tobacco Day on Monday.

The campaign, launched to create public awareness against smoking in public areas, also aims to warn public of strict enforcement of antismoking laws. The campaign kicked off with a seminar at a public transport terminal, where people were briefed about the harmful effects of smoking. Later, around 20,000 stickers and pamphlets with anti-smoking slogans were distributed for being pasted on public and private vehicles.

Senior Executive Vice- President of PNHA Dr Abdul Qayyum told The Express Tribune that the government had recently enacted a law banning smoking at public places and transport vehicle. Expressing concern about non-implementation of the law, he said: "Orders have been issued to the City Traffic Police for strict implementation." Violators could face a fine of up to Rs300,000 or three months imprisonment or both.

Chief Traffic Officer SSP Dr Muhammad Akhtar Abbas said that under Section 6 of the Public Health Protection Ordinance of 2002, smoking is strictly prohibited in public transport. Drivers and conductors of public transport and managers of waiting rooms can report cases of non-compliance, he said. "First-time violators will be fined Rs1,000. The second time, a violator can be slapped with a fine of Rs100,000."

PNHA will also organise a special walk against smoking on May 31 which will start from Liaquat Bagh and end at Liaquat Road, with participation by school children and other stakeholders.
COMMENTS
Comments are moderated and generally will be posted if they are on-topic and not abusive.
For more information, please see our Comments FAQ