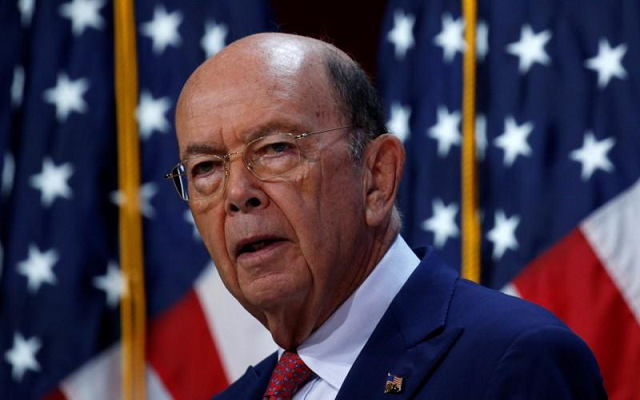 ---
BEIJING: US Commerce Secretary Wilbur Ross arrived in Beijing on Saturday for talks aiming to ease tensions over tariffs that have heightened fears of a trade war between two of the world's biggest economies, officials and Chinese state media said.

Despite announcing a truce a few days ago, the United States is working to finalise planned sanctions on Beijing - including restrictions on Chinese investment, export controls and 25% tariffs on $50 billion in Chinese tech goods.

China has threatened to hit back with tit-for-tat tariffs on tens of billions of dollars in US goods. Ross will stay in the Chinese capital until Sunday and is set to meet Vice Premier Liu He, a US government official told AFP.

US, China agree to abandon trade war: Beijing

His visit comes as fears of an all-out global trade war intensified after the European Union, Canada and Mexico drew up retaliatory measures to Washington's stinging steel and aluminium tariffs that came into effect on Friday.

US President Donald Trump first announced trade sanctions on China in March, largely focused on the Asian giant's theft of US intellectual property. Beijing on Wednesday lambasted "sudden flip-flops" in US policy after the Trump administration said it would still move to impose the sanctions - just over a week after the two sides said they had agreed to avert a trade war.

But as Ross arrived, China appeared to soften its position.

"China's door for negotiation remains open," said foreign ministry spokeswoman Hua Chunying.

The US and China "should adopt a sincere attitude and follow the spirit of equality and mutual respect to seek a win-win solution through dialogue and consultation", she added.

World on brink of trade war as US slaps tariffs on allies

The final list of Chinese imports covered by the US tariffs list will be announced on June 15 and imposed shortly thereafter, while the proposed investment restrictions and enhanced export controls will be announced by June 30, according to the White House.

Trump has accused China of forcing American firms to hand over their industrial secrets to Chinese companies in order to do business in the country, a charge that Beijing has rejected.

The US leader has also threatened to impose tariffs on an additional $100 billion in Chinese goods if Beijing retaliates. Zhu Feng, a professor of international relations at Nanjing University, told AFP he was "not very optimistic" about the outcome of the latest trade negotiations.

US-China trade war fears escalate as threats ramp up

"The chance that there will be no trade war at all is low. I'm afraid that the most practical option for the two sides is now to limit the extent of the conflict," he said.

Published in The Express Tribune, June 3rd, 2018.

Like Business on Facebook, follow @TribuneBiz on Twitter to stay informed and join in the conversation.