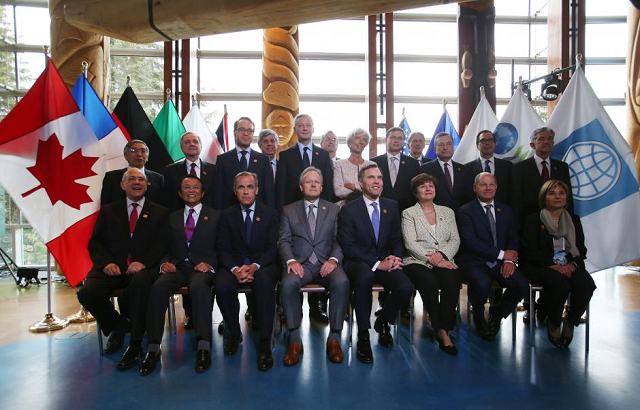 ---
CANADA/ WHISTLER: The United States' closest allies attacked the Trump administration for imposing tariffs on steel and aluminium imports and mounted challenges with the world's top trade body, fouling the mood at a G7 finance leaders meeting.

US Treasury Secretary Steven Mnuchin was the prime target of the criticism at the meeting of Group of Seven finance ministers and central bank governors in Canada, with the six other G7 member countries subject to the US metals tariffs, which were imposed on national security grounds.

The European Union and Canada both filed challenges with the World Trade Organisation.

G7 foreign ministers' summit to hold tough line on Russia

At the G7 meeting in the Canadian ski resort of Whistler, British Columbia, Canadian Finance Minister Bill Morneau said he expressed to Mnuchin "our absolute view that this is absurd that Canada could in any way be a security risk."

Mnuchin, regarded as one of the more moderate trade voices in Trump's cabinet, said the issue may need to be resolved by G7 leaders at a summit next week in Charlevoix, Quebec, officials attending the meetings said.

The US tariffs of 25% on imports of steel and 10% on aluminium were imposed early on Friday on Canada, Mexico and the European Union after they refused to accept steel and aluminium quotas in negotiations with US Commerce Secretary Wilbur Ross.

Trump's Twitter tirade

Trump took to Twitter again on Friday to castigate Canada after his testy exchange with Canadian Prime Minister Justin Trudeau on Thursday over rocky negotiations to update the North American Free Trade Agreement.

Trump's words followed swift responses to the tariffs by Canada, Mexico and the EU, which plan to retaliate with levies on billions of dollars of US goods, including orange juice, whiskey, blue jeans and Harley-Davidson motorcycles.

China, India leaders to hold summit after border row

Harley-Davidson's stock dropped about 1% on Friday while shares of steelmakers US Steel and AK Steel both rose 2.2%. The broader stock market rebounded on strong monthly jobs data.

Canada, the largest supplier of steel to the United States, said it will impose tariffs covering C$16.6 billion ($12.8 billion) on US imports, including whiskey, orange juice, steel, aluminium and other products.

Mexico announced "equivalent" measures on a wide range of US farm and industrial products, including pork legs, apples, grapes, cheese, steel and other goods.

The EU plans tariffs on US exports running the gamut from canoes to "manicure or pedicure preparations."

"We are determined to protect the multilateral system," EU Trade Commissioner Cecilia Malmstrom said of the WTO challenge. "We are expecting everybody to play by the rules."

China complications

The complaints came on the eve of a visit by Ross to China to try to secure long-term purchases of US farm and energy commodities to help shrink the US trade deficit.

The US team also wants to secure greater intellectual property protections and an end to Chinese subsidies that have contributed to overproduction of steel and aluminium.

World on brink of trade war as US slaps tariffs on allies

Officials at the G7 meeting said the tariffs made it more difficult for the group to work together to confront China's trade practices, especially when Beijing, like most G7 members, supports the current WTO-based trade rules and the United States is seeking to go around them.

Published in The Express Tribune, June 3rd, 2018.

Like Business on Facebook, follow @TribuneBiz on Twitter to stay informed and join in the conversation.