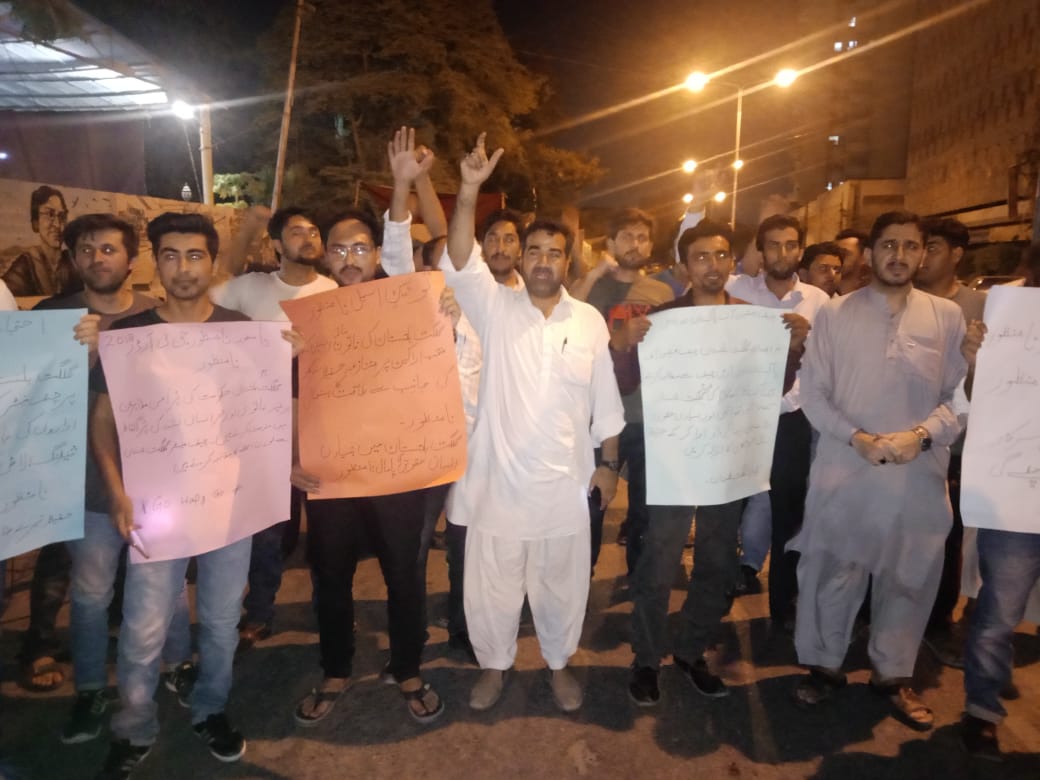 ---
GILGIT: Several people were injured as police fired tear gas and resorted to aerial firing in Gilgit on Saturday to stop protesters approaching towards Gilgit-Baltistan (G-B) Assembly for a scheduled sit-in against the newly introduced G-B Order 2018.

The incident comes a day ahead of Prime Minister Shahid Khaqan Abbasi's scheduled visit to Gilgit where he is set to announce the 2018 reforms package in the assembly.

"There were minor injuries to many including Awami Action Committee (AAC) Chairman Sultan Raees," said a witness Zakir Hussain.

A police official said the injuries were minor as police resorted to tear-gassing to disperse the protestors who wanted to lay siege of the assembly.

In what could be a rare show of unity, politicians from various parties held protest rallies across G-B on Friday demanding constitutional rights for the region.


#WeRejectGBOrder2018 when injustice becomes law resistance becomes duty. Red selute to the people of Gilgit-Baltistan for resisting against the draconian order. Shame on state authorities for this cruel oppression against peaceful protest. pic.twitter.com/WnGWoTdBRY

— Touqeer Kazmi (@Stm_kazmi) May 26, 2018


The protesters had planned the sit-in outside the G-B assembly on Saturday to press for the acceptance of their demands but police blocked their way resulting in clashes.

The protests came days after the government introduced governance order 2018, terming it an improved version of Governance Order 2009 introduced by the Pakistan Poeples Party in 2009.

However, the new package failed to impress the local politicians who announced launching of region-wide protest till it is replaced with what they called for.

"We will continue our sit-in outside the assembly till this package is revoked and we are given constitutional rights," said Raees just before the start of the sit in.

Another leader said they would mark the arrival of PM to Gilgit as a black day.
In a statement on social media, the AAC condemned police action against the peaceful protesters and vowed not to backtrack from its stance.

"The rulers are coward and use of forces is witness to it."


Opposition Parties Leaders Filed application for FIR against Chief Minister Gilgit Baltistan Hafeez ur Rehman for using brutal force against Peaceful Demonstrators demanding fundamental and constitutional rights of Gilgit Baltistan.#WeRejectGBOrder2018 pic.twitter.com/13E5Yjv073

— Gilgit Baltistan Awareness Forum (@GBAwareness) May 26, 2018


In a late development, opposition leaders submitted an application against police accusing it of manhandling protestors including AAC's Raees. Those had filed the application include members of G-B assembly Muhammad Shafi, Nawaz Naji, Rizwan Ali and Javed Hussain.

Meanwhile, protestors continued reaching the spot despite police barricades to ensure the sit-in takes place.

"It's a matter of our pride, we will not let this opportunity go," said Imran Ahmed, a social activist.

Chief Minister Hafeezur Rehman told media on Friday that holding protest rallies is the right of opposition parties but said "they should not mislead the local masses for their personal gains."