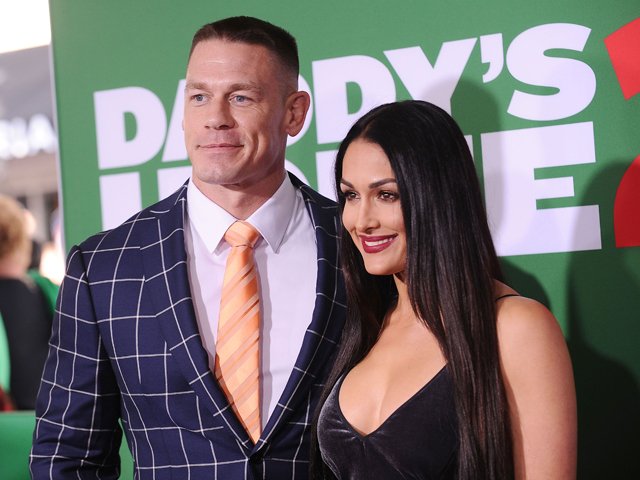 ---
KARACHI: The last month has been tough for the WWE superstars John Cena and Nikki Bella. The two apparently broke up out of the blue around mid-April and the announcement shocked everyone as they were due to get married in Mexico on May 5.

WrestleMania: Undertaker defeats John Cena in under three minutes

While the alleged split came off as a surprise for many, the issues between the duo had been in place for a long time, and a lot of them had even been explored in the reality television series Total Bellas.




One major cause of the rift was that Bella wanted to have kids and start a family while Cena didn't. Although he later agreed, the pressure of the approaching wedding was too much to handle for Bella and she ended the engagement in a move to cancel the wedding.

In an earlier interview with Kathie Lee and Hoda on Today, Cena said that for him, the breakup came out of nowhere. "I had my heart broken out of nowhere," he said, attributing it to unfortunate circumstances. "I love her. I want to be with her. I want to make her my wife. I want to be the father of her children. I just want us to work," added the wrestler.

Later, Bella appeared on The Today Show and shared her thoughts too. "A lot of us that go through the wedding planning process are forced to face all these issues that we have just hiding deep down inside," she said, hinting there was still hope of working things out with Cena. "I just know that a healthy me would be a healthy us. I do have hope for a future but I know right now, I need to work on me."




But then of course, there are many signs which suggest that all this drama was scripted, just like other WWE stories, to promote the upcoming season of Total Bellas. The interesting timing of the break up and its advertised exploration in the upcoming season of the reality show led everyone to speculate so. If this is true then literally no one will be surprised.

Cena proposed to Bella after their victory against The Miz and Maryse, on the grand stage of WrestleMania 33 in 2017. The couples broke up and voila, there was a reality show on them. Perhaps, it's just the media-driven life of two big stars whose public and private lives have been blurred or it's as staged a story as Undertaker and Kane being real-life brothers. Whatever the case, it's pretty obvious that every twist and turn of the Cena and Bella saga will be documented, showcased and marketed in a big way.

With Total Bellas needing a strong angle to sell the new season, the drama of the breakup and future happenings in the story being documented in subsequent episodes/seasons is a jackpot for the E! network.




However, recently, People magazine broke the news that Cena and Bella, in fact, are already back together again. "This was never really about ending their relationship but about calling off a wedding because something didn't feel right," a source told the weekly American publication. "It was a wedding that was entered into under false pretenses. She was pretending she was okay with not having a kid, he was pretending he absolutely couldn't and wouldn't budge on that."

The former couple was also spotted together recently, fueling rumors of their patch-up further. Bella slammed the sources saying she and Cena had patched up, in a tweet. "The lies... damn can make a girl want to hide... these articles are so incorrect. One day, I would love to meet these 'sources'," she tweeted.

John Cena and Pakistani-American Kumail Nanjiani to star in a buddy cop comedy

Some signs may point to it all being staged while others may not. Just like progression in any other WWE Raw storyline, we'll  just have to wait and watch.

Have something to add to the story? Share in the comments below.