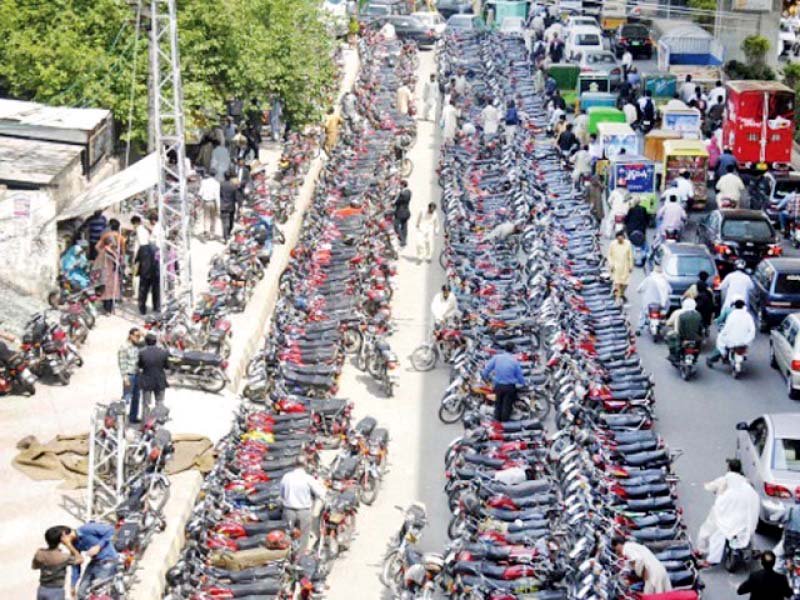 ---
GUJRANWALA: The municipal corporation in Gujranwala seems to have succumbed to the tactics of the parking mafia in major city areas. Despite measures by the district administration not to charge parking fees, parking mafias continue to thrive in some parts of the city.

Officials told Express News that the private contractors are ripping people off across the city by employing a combination of muscle, rude behaviour, threats to tow vehicles and tampering with the slips. In most cases, fee collectors also torture the vehicle owners after arguments over fee collection. They make a killing by charging up to Rs20 for a motorcycle and Rs40 and Rs50 for a car.

A visit to different parts of the city by Express News scribe revealed that illegal parking stands could be seen outside Model Town Park, Muneer Chowk, Satellite Town, Passport office, Gul Road and at private hospitals.

Around three to four charged parking collectors collect fee from car and motorcycle owners to let them park on the streets outside the mentioned spots. This practice also prevails outside the Gujranwala Press Club.

The charged parking collectors hand out receipts of Rs40 and Rs20. However, most of these receipts do not bear a district administration label on it.

One of the charged parking collectors outside a busy market told Express News on condition of anonymity that they are deployed in different places by their contractors, who have proper arrangements with the traffic police and other officials.

He added the contractors pay bribes to the authorities to let them carry on with their illegal business. He maintained that the police held some parking fee collectors on different occasions for illegally charging the parking fee, but their contractors got them released.

The main purpose of hiring contractors is to ensure that vehicles are parked correctly so that traffic jams can be avoided. But contractors are only interested in making money. They even allow vehicles to be parked on roads, hence choking them.

When contacted, Municipal Corporation Land Manager Shehzad Khokhar said, "The police do not cooperate with us to end such illegal parking stands." He added, "It is impossible to curb this menace without the help of the police force."

Published in The Express Tribune, May 22nd, 2018.