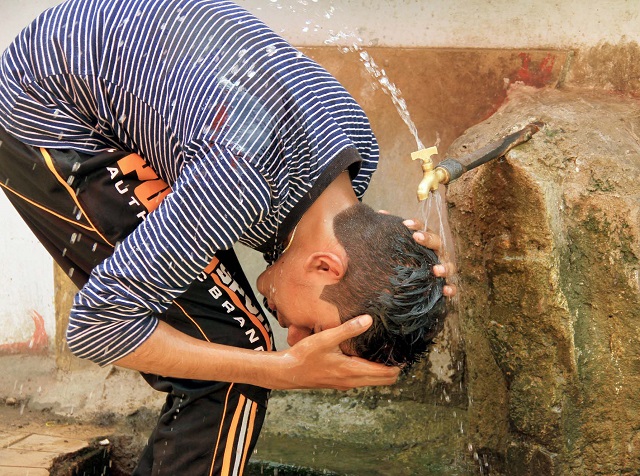 ---
KARACHI: Over 60 people have died due to the heatwave in Karachi, Edhi Foundation head Faisal Edhi said while quoting relatives of the deceased.

Edhi said that the number of bodies in their mortuaries in Korangi area has tripled, while in Sohrab Goth, the flow has doubled since Saturday – the day the heatwave hit the metropolis.

He told The Express Tribune that more than 160 bodies have been reported at the two mortuaries, with the relatives of 60 claiming heatstroke to be the cause of death.

"On normal days, the Korangi mortuary receives six or seven bodies, whereas the last few days have seen 20 to 25 bodies per day. The flow at the Sohrab Goth facility has doubled from 20 bodies to 40 in a single day," he added.

Karachi to swelter till Thursday, says Met department

The ages of the deceased range from 16 years to 78 years and they include both men and women.

According to Edhi, people should avoid going outside during the peak heat hours and must maintain their electrolytes. He added that a majority of those suspected of being heatstroke victims were fasting.

Korangi Mortuary Station Manager Muhammad Shafiq said that between 55 and 60 bodies have been received by their facility in the last three days, while the normal daily average is only six to seven bodies. "The Korangi mortuary caters mostly to blue-collar workers and labour class in Landhi and Korangi."

According to Shafiq, only a few of the death certificates of the deceased mention heatstroke as the cause of death.

Tayyaba, 28, a resident of Orangi Town, who was also pregnant, died on Sunday evening. According to her husband, Sheeraz, there was no electricity in their area for four hours in the afternoon, and when Tayyaba's condition worsened, they were unable to get her to a hospital in time.

Karachi morphs into a giant baking oven

Harris, the nephew of Shabbir Ahmed, 68, a resident of Liaqatabad, said his uncle died due to heatstroke. "It was 11:00am on Sunday when my uncle said he felt unwell due to the heat and asked us to switch on the fan, but since there was no electricity, we could not help him," he added. An hour later, when his condition deteriorated, they took him to a nearby hospital, where he was pronounced dead.

Jinnah Postgraduate Medical Centre Executive Director Dr Seemin Jamali said that a full ward has been established to accommodate the expected influx of heatstroke patients. However, she added that no heatstroke patient has been reported at JPMC so far, only a few with vertigo.

Civil Hospital Medical Superintendent Dr Mohammad Tofique said that no death due to heatstroke had been reported at the facility till Monday evening. He said only two people had been brought to the dedicated heatstroke ward during the current heatwave. He added that most potential heatstroke victims use the shower facility set by the hospital to reduce the body temperature of those coming in with complaints of heat fatigue.

The maximum temperature in Karachi remained 44 degrees Celsius for the second consecutive day and the port city remained the third hottest city in the province after Chorr Cantt at 46.5 degrees and Mithi at 46 degrees. The humidity in Karachi was six per cent on Monday.
COMMENTS (1)
Comments are moderated and generally will be posted if they are on-topic and not abusive.
For more information, please see our Comments FAQ