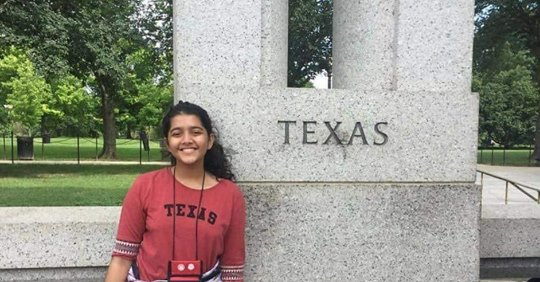 ---
KARACHI: A 17-year-old Pakistan student, Sabika Sheikh, was among the 10 students killed in the school shooting in Santa Fe, Texas on Friday.

The girl's classmate, Dimitrios Pagourtzis, armed with a shotgun and a revolver, opened fire in the school premises. The incident is believed to be the latest deadly school shooting to hit the United States.

Sabika was studying in the US under an exchange program facilitated by the Kennedy-Lugar Youth Exchange and Study (YES) program.

The family

Sabika's father Aziz Sheikh was in the middle of 'Iftar' on Friday when he heard of the mass shooting in a Texas high school. He immediately called his daughter who was supposed to be in Santa Fe High School, some 40 miles South of Houston.

Pakistani exchange student among ten killed in Texas school shooting

"We called Sabika immediately," he said, holding his mobile tightly in his hands. "She didn't pick."

Tension descended over the entire home situated in Gulshan-e-Iqbal neighbourhood of Karachi. The father then called her friends and class fellows in US but no one picked up the call.

Sheikh mustered courage and called Sabika's host parents in the US who received the call and were crying. "I knew they have a bad news," he said in a low voice. "Sabika was no more, the host family told me."

A fresh batch of YES is also expected to leave for US this August from Pakistan.

American Councils for International Education Program Manager Megan Lysaght in a letter to the YES program students said, "It is with the greatest sadness in my heart that one of our YES students, Sabika Sheikh of Pakistan [is no more] … YES program is devastated by this loss and we will remember Sabika and her families in our thoughts and prayers. We will have a moment of silence in her memory today."

Lysaght also notified other YES program students, "If you need extra support during this tragic time, please let your host family, local coordinator or placement organisation know. YES also has 'Religious Advisors' if preferred".

Embassies statements

Pakistan Embassy in Washington DC confirmed through Twitter that Sabika was among the high school students killed. Pakistani ambassador to the US Aizaz Chaudhry expressed his heartfelt condolences for the victims of the tragic incident.

US ambassador to Pakistan David Maclain Hale also offered his condolences to the family and said in a tweet that he called Sabika's family in the morning and offered deepest condolences. "All of us at the US mission in Pakistan are devastated and mourn her loss. We will honour her memory," he said.

Sabika's father Sheikh said he had spoken to Ambassador Chaudhry and Aisha Farooqui of the Consulate General of Pakistan in Houston on the telephone several times.

"They are very cooperative," he said, adding that the family had been assured that the body would be repatriated to Pakistan by Tuesday.

A girl with high aims

Sabika was fond of reading love stories. Even though it has been almost nine months she had gone to the US, her room in Pakistan still has her belongings the way she left them.

As many as two novels, Kite Runner and Fangirl, were lying on her dressing table which also has her big and small trophies on it. The side tables are cleaned and the bedsheet properly tucked as if she is coming back tomorrow.

US student dies in accidental school shooting: officials

Sabika finished her matriculation from the Karachi Public School. She went to Texas in August last year and was scheduled to come back to Pakistan in June this year. "Not even a month," her father says. "In a matter of 21 days she was to come back."

The father and the daughter daily used to talk over the phone. "The countdown had already begun. We used to mark every day in calendar," said the inconsolable father, adding that on Thursday just before iftari, he spoke to Sabika. "She insisted that she wants to speak to me before I open my fast," he said.

Her eight-year old brother, Ali Aziz, is roaming around the house. No one is able to console him. "She asked me to decorate her room and promised they would spend Eid together," Ali repeated.

Sabika was not a normal girl to her father, who has two more daughters.

"Sabika wanted to become civil servant. She aimed to study foreign affairs. She used to say anyone can become a doctor or engineer," Aziz said smiling, adding that Sabika wanted to go to the UN.

What is the YES program?

The Kennedy-Lugar Youth Exchange and Study (YES) program was established by Congress in October 2002. The program is funded through the US State department and sponsored by the Bureau of Educational and Cultural Affairs to provide scholarships for high school students from countries with significant Muslim populations to spend up to one academic year in the US.

In Pakistan, the YES program is run by iEARN Pakistan-Centre which works under the Society for International Education – a non-profit, non-government educational society based in Karachi. In this program, students from different countries live with those host families in the US who have applied for the program to host any child.

"These are the spiritual families for the students visiting the US," Pakistan US Alumni Network Karachi Chapter's Faisal Malik said.

The students attend high schools, engage in activities to learn about American society and values and help educate Americans about their countries and cultures.

FO's reaction

Foreign Office Spokesperson Muhammad Faisal termed Sheikh's demise 'heartbreaking'.

"Our consul general is in touch with the family and the local authorities and is making efforts to arrange the earliest repatriation of the human remains," he said in a Twitter post. Faisal also prayed for the departed soul.


The tragic death of only 17 years old, Sabika, the young daughter of Pakistan, at Santa Fe is heartbreaking. Our CG is in touch with the family and the local authorities and is making efforts to arrange the earliest repatriation of the human remains. May she Rest In Peace.

— Dr Mohammad Faisal (@DrMFaisal) May 19, 2018


Earlier, the Pakistani embassy in Washington DC confirmed Sheikh's death in the shooting on Twitter. Pakistani envoy Aizaz Chaudhry also expressed heartfelt condolences for the victims of the tragic incident.
COMMENTS (2)
Comments are moderated and generally will be posted if they are on-topic and not abusive.
For more information, please see our Comments FAQ