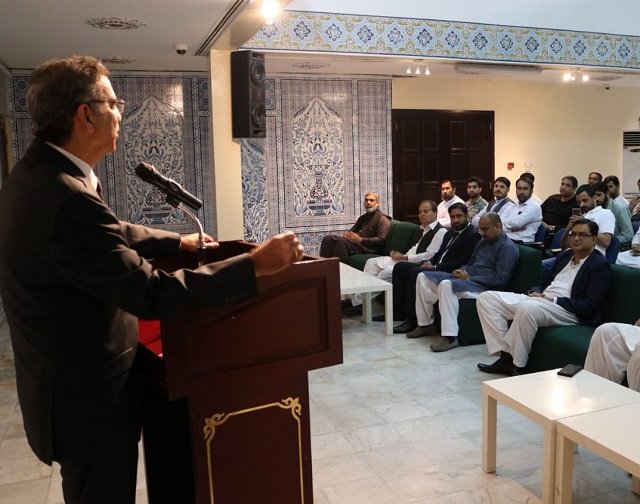 ---
A large number of Pakistanis attended a ceremony held at the Embassy of Pakistan in Abu Dhabi on Friday to express solidarity with Palestinians over Israeli atrocities in Gaza.

The "Palestine Solidarity Day" function, presided over by Pakistan's Ambassador to UAE Moazzam Khan, was organised to condemn the human rights violations being committed by Israeli forces, said an official statement.

Speaking on the occasion, Ambassador Moazzam said that the purpose of the observance of Solidarity Day was to reaffirm our solidarity with the Palestinian people.

Turkey hosts OIC summit to condemn Israel over Gaza massacre

He said that the government of Pakistan has noticed with grave concern that despite calls by the international community to comply with UN General Assembly and Security Council resolutions on the two-state solution, the US has moved its Embassy to the Holy City of Jerusalem which represented a violation of international law and several UN resolutions.

He reaffirmed that the government and people of Pakistan stood firmly with the Palestinian people and renewed call for establishment of a viable, independent and contiguous State of Palestine, on the basis of internationally agreed parameters, the pre-1967 borders and with Al- Quds Al Sharif as its capital.

UN votes to send war crimes probe to Gaza

The ambassador said that the government of Pakistan strongly condemns the merciless killings of unarmed and innocent Palestinian protestors by the Israeli forces which were a consequence of the relocation of the US Embassy to Jerusalem from Tel Aviv in opposition to the UN and the international law.

He also called upon the UN and international community to investigate into this incident and bring to end use of force immediately.

At the end of the function, special prayers were offered for the Palestinian martyrs and injured and for an early resolution of Palestinian dispute.
COMMENTS
Comments are moderated and generally will be posted if they are on-topic and not abusive.
For more information, please see our Comments FAQ