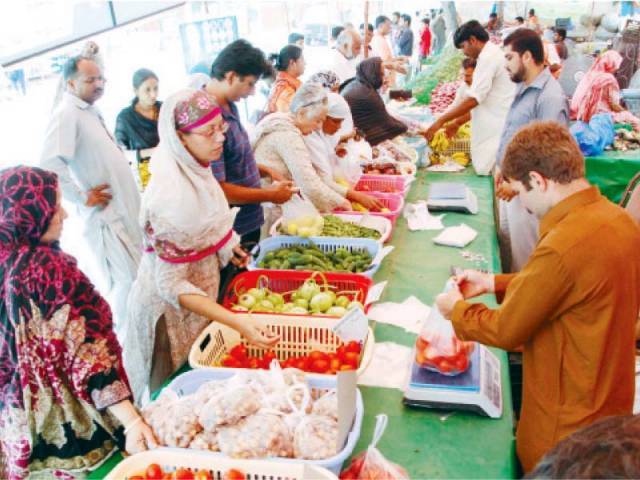 ---
ISLAMABAD: The Islamabad Capital Territory (ICT) administration has formed a special committee to ensure the sale of edible items especially vegetables and fruits at controlled rates during the holy month of Ramazan.

"The 20-member committee is headed by the deputy commissioner, additional deputy commissioners, naib tehsildars, tehsildar, excise and taxation officers, directors excise and food are among members of the committee, who will have all magisterial powers," City Administration spokesman said.

He said an effective strategy had been devised to avoid hoarding of edible items and ensure their availability as per approved rate lists, which are issued on a daily basis. The Islamabad Chief Commissioner, he said, had recently held a meeting and directed the committee members to ensure the availability of commodities at controlled rates and take strict action against those found involved in creating an artificial shortage and overcharging.

The committee members would visit different markets on a daily basis to keep an eye on prices during Ramazan and impose heavy fines on violators so that exploitation of the public at the hands of profiteers could be avoided. He said additional stalls had been set up at the I-11 fruit and vegetable market, which would remain open round-the-clock during Ramazan, while weekly bazaars at G-9 and G-6 would operate throughout the month without any break. "During the first 10 days of the month, a substantial increase in supplies will be ensured at these markets to meet demands of consumers," he added.

Meanwhile, it has been observed that the presently ongoing situation is contrary to the arrangements made for facilitation of those preparing for the fasting month, as a variety of fruit has already gone beyond the reach of the common man as it is presently being sold at outrageously high rates.

Citizens of the twin cities of Islamabad and Rawalpindi have urged the authorities concerned to devise an effective strategy to deal with those taking advantage of the opportunity to make a profit, other than the regular checking of measuring and weighing gadgets.

During a visit to different markets including Aabpara market, Sitaraa market, Khanna pull and Kurri road's market, a buyer witnessed that an apple was being sold at Rs120 per kg, a banana at Rs120 per dozen, melon Rs35 per kg and peaches at Rs200 per kg against the rates fixed by ICT of Rs80, Rs95, Rs25 and Rs100 respectively.

Asghar Abbasi, a buyer at Aabpara market, said it seemed as if no mechanism of price control existed as shopkeepers and stallholders were busy in selling edible items at their own rates, completely ignoring approved price lists. Although, he said, the district administration was establishing additional stalls at its seven weekly bazaars to facilitate those fasting, however, it would be a futile exercise, if proper relief was not provided to the public by ensuring quality and quantity of commodities at subsidised rates.

Asghar recommended that more markets like H-9, G-10 and G-6 bazaars be established as other facilities were extremely insufficient to cater to the needs of the over 10 million population of the capital.

Another customer at Kurri road market, Saleem Khan said it was unfortunate that prices of daily use edible items had gone up right before Ramzan, pointing out that B category vegetables and fruits were being sold at the rate of A category.

An official of Rawalpindi's city administration said FIRs (First Information Reports) were being registered against profiteers besides imposing heavy fines on them, adding that a plan had been devised to deal with rule violators in a more strict manner.

Published in The Express Tribune, May 17th, 2018.