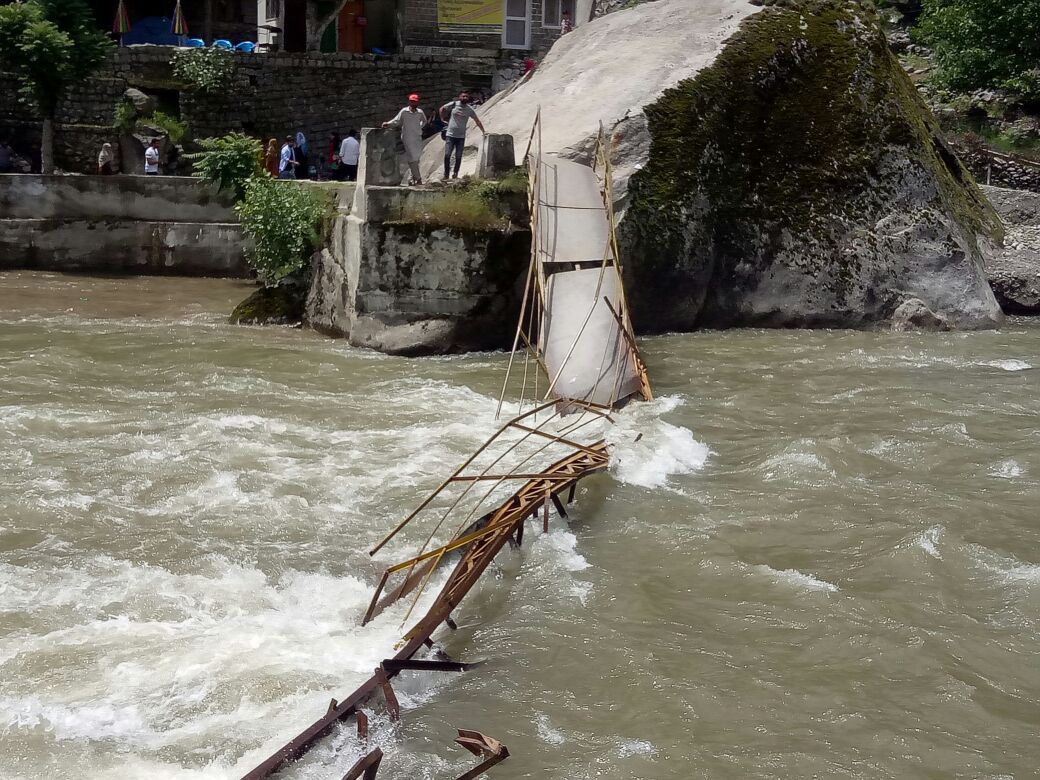 ---
MUZAFFARABAD: At least seven tourists drowned while nine others are missing as they were swept away by gushing waters in Neelum valley following a bridge collapse, some 60 kilometres from Muzaffarabad on Sunday.

Around 28 tourists were taking pictures on the bridge, located over the Jagran stream in Kundal Shahi area, when it collapsed.

The temporarily erected hanging bridge could not withstand the load of people standing on it and broke, tumbling the visitors down in the stream.

Rescue teams have recovered at least seven bodies from the water while search operation for the rest is under way. 11 injured tourists were shifted to a local hospital and later flown to Combined Military Hospital (CMH) Muzaffarabad through army helicopters.




PHOTO: EXPRESS

Commissioner Muzaffarabad Imtiaz Ahmed says seven tourists injured in the incident, identified as Shah Zaib, Abdul Rehman, Muhammad Zubair, Shahzad, Nadeem, Saeed and Hamad, have been recovered.

Those who have been admitted to district hospital Authmaqam include Anum Matloob, Anisa Bibi, Walid and Sajid.

Rainstorm kills three, injures two in K-P

The commissioner further said Pakistan Army is assisting the civil administration in the rescue and search operation besides local people.

Azad Jammu and Kashmir Prime Minister Raja Farooq Haider Khan reached the scene to supervise the rescue operation. He directed the deputy commissioner of the district to accelerate the search. A control room has also been set up in Muzaffarabad to monitor relief operation.


PHOTO: EXPRESS

Expressing grief over the incident, Army chief General Qamar Javed Bajwa has directed all possible assistance to civil administration for relief and rescue, said the Inter-Services Public Relations (ISPR) in a statement.

Neelum Valley, bordering the Kupwara and Bandipora districts of held Kashmir, is known as a heaven for nature lovers. Thousands of sightseers and vacationers throng the site, especially in the summer.

The facilities for the increasing number of tourists in the area, however, need to be upgraded both in terms of their safety and better boarding and lodging.

"What happened at Kundal Shahi today is a clarion call for us to take swift action and upgrade the facilities for the visitors to save tourism industry," stressed Pakistan Tehreek-e-Insaf (PTI) parliamentary leader in AJK assembly Abdul Majid Khan.

Khan, who has served as a tourism and information minister in AJK, emphasised that the roads leading to the valley and the bridges need to be properly maintained.
COMMENTS (3)
Comments are moderated and generally will be posted if they are on-topic and not abusive.
For more information, please see our Comments FAQ