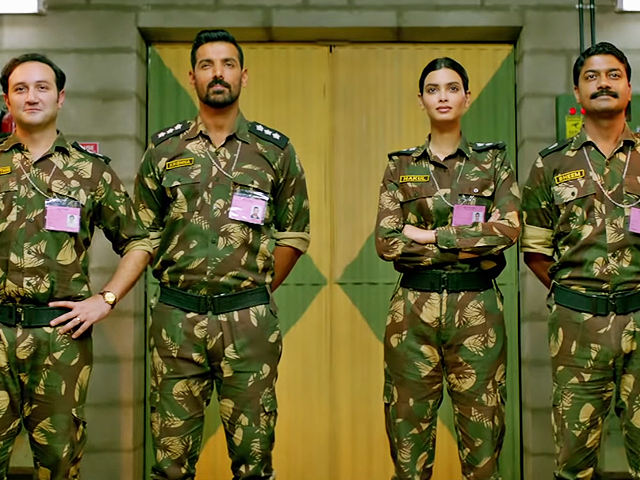 ---
Parmanu - The Story Of Pokhran, a Bollywood movie on India's nuclear test in 1998, will release across 300 screens in Pakistan, said director Abhishek Sharma on Friday.




At the film's trailer launch, the team was asked about plans for the film's release in Pakistan. "It's coming in 300 screens in Pakistan," director Abhishek Sharma quipped. It was clarified later that he was joking.

'Raazi' is more than just an Indo-Pak war film, says actor

On a serious note, John said, "To answer that question, this is not an anti-Pakistan film, it is a very pro-India film. So, we are very clear this is a film about India and we are going to celebrate this.

"If we start thinking about other markets, we would be compromising on our film. We wanted to tell the story as it is."




John further told the media, "We are not here to throw mud on anybody's face, we want to keep it clean. We want to keep the controversy aside. We are confident about the film and the subject that we have chosen."

Recently, Alia Bhatt starrer, Raazi was banned from screening in Pakistan due to its controversial content, no distributor has agreed to purchase the film. "It is disappointing to see that films on controversial subjects are being produced in India time and again," a senior distribution company official told The Express Tribune.

'Raazi' trailer hints at complicated Indo-Pak relationship

"All our distributors are well aware about Alia's role in Raazi and so, no one is willing to purchase the film. Patriotism is another reason for distributors not being pushed about buying the film. Indian producers should know that all our distributors have unanimously decided to boycott such controversial films."




In an interview with The Hindu earlier, Vicky stated that it would be unfair to call Raazi just a war film, as the movie explores much deeper themes in its narrative. "The film is not just about the Indo-Pak war, it is much deeper than that. It is about an individual relationship. It is also about an era when there was tension between the two countries and during that time a Kashmiri woman married a Pakistani major."

Written by Saiwyn Quadras and Sanyukta Shaikh Chawla, Parmanu - The Story Of Pokhran also features Diana Penty, Boman Irani and Yogendra Tikku. It will release on May 25 in India.


Have something to add to the story? Share it in the comments below.