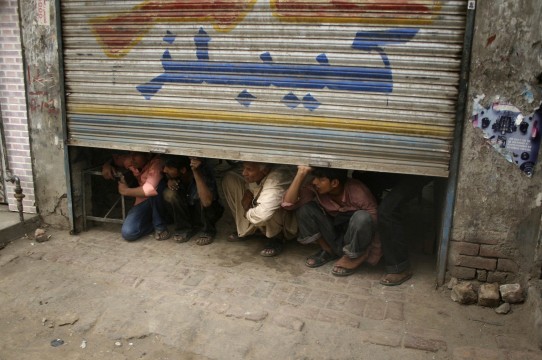 ---
LAHORE: Roads were deserted as businesses and banks closed down early following the attack on an Ahmedi place of worship in Model Town during the Friday prayers.

The banks appeared to have close down to avoid any further untoward incident. The residents preferred to stay inside their homes.

An eyewitness said that the entire area seemed appeared to have cordoned off. The truth however was that people preferred to stay inside and avoid the road leading to the attack site.

The C-Block mosque is surrounded by shops, ATMs and banks. It was too risky to open the shops after the terrorist attack, he added.

Bank officers in the area told The Express Tribune that they turned away customers and ordered the security guards to shut down the ATM outlets to avoid any potential robbery.

"Despite a kilometre's distance between C-block's Bank Square and the attack site, we decided to close down," a Standard Chartered official, seeking anonymity, told The Express Tribune.

Many customers were gathered outside the bank. They were left disappointed. Hashim Khan, a Model Town resident, had been waiting outside Al-Falah Bank, said, "Today is the last date to pay my children's school fee but the manager has called a day off." "I've requested him to let me pay but they are adamant on closing down and turning us (customers) away," he added.

"I showed my national identity card (NIC) and to argue that I would not cause any harm but he has refused to admit me," he lamented.

Restaurant customers in the area were also told to leave as soon as possible.

People commuting through public transport also complained of delays. Abdul Qadeer, a shop salesman in C-block, told The Express Tribune that he was compelled to seek a ride from a motorcyclist after waiting for over an hour at the bus stop.

"On one hand all the shops were closed, on the other I could not find a bus back home," he lamented.

The traffic police said that they diverted the traffic to alternative routes in order to prevent them from passing through the attack site.

A warden, seeking anonymity, said, it was not safe to let commuters drive through.

Published in the Express Tribune, May 29th, 2010.
COMMENTS
Comments are moderated and generally will be posted if they are on-topic and not abusive.
For more information, please see our Comments FAQ